December 05 2013


Thanksgiving leftovers
Recently I made a foolish statement that rice was more common for Southern Thanksgiving tables than Irish potatoes. When the magazine Southern Living displayed their "best traditional menu" which had both sweet potatoes and "mashed," there was no mention of rice.
Studying other Southern menus I found more sweet potatoes than Irish. Dixie also wanted pecans in salad or pie or dressing. Of course, there are several Souths. The coastal areas would have Key Lime Pie. Deep Dixie would have collard greens and the Southwest poblano peppers stuffed with cheese.
I found rice, not in Dixie, but in the buffet of Spring Mill Country Club, Ivyland, PA. There were three soups, seven salads, mashed potatoes, candied yams, green bean casserole (that appeared everywhere), succotash (hooray for native America), peas with pearl onions, garden medley veggies, baked tilapia with lemon dill sauce, pasta with mushroom alfredo sauce, seafood creole, RICE medley, homemade stuffing, carved honey mustard glazed ham, carved turkey with giblet gravy, apple and pumpkin pie, and fresh fruit.
That sounds similar to the menu served at Luther Oaks: Three salads; the carved honey ham had pineapple and cherries, the turkey fresh sage; cornbread dressing, mashed potatoes, corn pudding, sweet potatoes with pralines, vegetable medley, apple, cherry, and pumpkin pies.
In 1942 after reading the wartime Thanksgiving Proclamation over the radio, President Franklin Roosevelt led the nation in a prayer for peace. The menu was traditional except there was no mention of Irish potatoes. But the holiday was celebrated the fourth Thursday of November. Congress had made sure of that.
Presidents had usually declared the "last" Thursday in November as the holiday. But in 1939 there were five Thursdays, the last coming on 30, meaning there would be fewer shopping days until Christmas. Business leaders hoping to stimulate commerce pressured FDR to move Thanksgiving up to the fourth Thursday.
This raised quite a furor because many people regard Thanksgiving a religious holiday and don't like to see it contaminated by the commercialism of Christmas. Some states elected to observe the traditional last Thursday.
New Yorkers with relatives in Connecticut could not share dinner. To settle matters Congress passed a law in 1941 declaring the Fourth Thursday legal and proper for the holiday.
My favorite dinner is what Ida McKinley ordered for the White House in 1897. Turkey stuffed with Rhode Island oysters, new Idaho potatoes, cranberries and celery, mince and pumpkin pies. No sweet potatoes.
This year the White House served the customary provender with both sweet and mashed, the green bean casserole as well as seven kinds of pie: banana cream, coconut cream, pumpkin, apple, huckleberry, cherry and sweet potato. Republicans criticized excessive sugar.
Home Sweet Home Mission served turkey, sweet potatoes, green beans, and pumpkin pie. That's probably a partial menu, but the fundamentals were there. That meant that America from homeless to White House shared the same foods.
Thanksgiving coming late on November 28 probably found many Link Cards and Food Stamps depleted. Those families were down to white bread days. Their Thanksgiving dinner might have been a couple spoons of canned turkey noodle soup and two slices of bread. Only in America.



---

Alan Look Photography - Bloomington - Normal's Best Look in Sports Action Photography
Images from recent games are available for viewing and purchase

---

They Call Me Spence
by Brad Spencer
Award winning journalist

December 05 2013

My underwear, drone octocopters, and the future
Follow me for a moment, about five or so years — maybe less, maybe more — into the future. You may find it either alarming or wonderful.
It's morning time. I've just started to change from my pajamas to my golf attire when I discover all my briefs are utterly useless. Waistbands are stretched, seams are tattered, and the crotches, don't even get me started on the crotches.
No worries.
Amazon.com has already ordered for me my Men's Classic 5-pack Comfort Soft Waistband Multicolor Boxer Briefs. Amazon knew it was time because its algorithms tallied, analyzed, evaluated and arrived at the conclusion that this was the date that I would be unwilling to step into yet another pair of tattered, worn-out, or threadbare briefs. The in-house order was placed and processed. The nearest distribution center was dispatched. My Men's Classic 5-pack Comfort Soft Waistband Multicolor Boxer Briefs were picked off the shelf by a robot, boxed by a mechanical arm, sent down a conveyor belt to a launch pad, lifted from said launch pad by a small drone octocopter and is currently in route to my home, zipping through the air. Estimated time of arrival? Thirty minutes or less.
Great. I throw on my iWatch and my Google Glasses. Within minutes I've scanned the news, checked the weather, lined up a group of friends to hit the links with, made a tee-time at a local golf course and intently compared my seriously flawed swing to Tiger Woods' swing. I've also been advised by a hologram of Tiger himself on what I need to do to beat my friends today. The Tiger hologram has analyzed the previous scores of my friends per hole at this particular golf course and cross-checked them with other rounds at other places. He even pulls up an image of Pete slicing a shot into a parking lot during a recent outing. The Tiger hologram and I both laugh. I look up the directions to the golf course and check the traffic.
I'm hungry and my Wireless Flex Activity and Sleep Wristband is aware of this. It has been monitoring my pulse, measuring the oxygen level in my skin, and it has ordered me up a crab and asparagus omelet with apricot marmalade from a local diner. Estimated time of arrival? Thirty minutes or less.
I've already paid for both my Men's Classic 5-pack Comfort Soft Waistband Multicolor Boxer Briefs and my crab and asparagus omelet with apricot marmalade through my bank app on my iPhone.
Amazon somehow knows I was conferring with a Tiger Woods hologram about my golf swing on my Google Glasses and has sent me a message that it's about time I updated my golf shoes.
"Your golf shoes are older than your first born, Abby," states the very personalized message. "How is she by the way? Still doing well in school? Hey, you may want to get her a Kindle HDX this Christmas. She's bought a lot of books with your credit card over the last few months! E-books are cheaper, all I'm sayin'."
I order up the golf shoes, have them sent via drone octocopter to the golf course, and I take into consideration the advice on the e-reader. I pay for the golf shoes, again on my iPhone via my bank app. Instantly, Amazon shoots me back an email: "Thank-you, Spence. Good luck today. Watch out for Pete's wicked slices!"
My doctor's face pops up on my iWatch and I switch to the iPad and swipe Accept Call. "Hello Brad. My Google analytics app shows that your blood pressure is elevated and I'd like to run a few tests if you don't mind."
"Sure, Doc."
"Great, put your finger on your iPad and take a few deep breaths. Good. I'll text you the results, have a diagnoses and treatment methods in thirty minutes or less. Thanks. Oh, and have fun on the golf course today."
Alas, the drone octocopter is at the window. My Men's Classic 5-pack Comfort Soft Waistband Multicolor Boxer Briefs have arrived. There's a knock at the door. My crab and asparagus omelet with apricot marmalade has arrived.
Before heading out the door to my waiting hover craft, I grab my laptop, my iPhone, my iPad, my Kindle, slip on my Google Glasses, sync up my iWatch, and check my Wireless Flex Wristband.
And then it hits me. I suddenly realize that everything I've ever searched for, viewed, ordered and downloaded on the internet has been recorded. There's a dossier out there — or in there — on all of us who have ever been on the internet. Everything we've ever done in our lives has basically been recorded, and everything we will do in our lives will basically be recorded through such sites as Facebook, LinkedIn and Google-plus. Google and Amazon know our current interests — probably better than we know our current interests — and together they will predict our future interests.
Alarming or wonderful?


Brad Spencer can be reached at Brad.E.Spencer@gmail.com
December 05 2013

How to Curb Washington Gridlock?

ON NOVEMBER 20, USA Today ran an editorial under the headline, "Five Ways to Reduce Hyperpartisanship." The five ways seem so logical in terms of moving toward a Congress capable of working together and actually passing legislation, I made it a point to save the article.
There isn't room here to take a careful look at all five ways, but some of them seem so compelling and fair minded I'd like to identify them and put in my own two cents.
Job #1, according to the article is to "curb gerrymandering." The editorial states, "Congress is overrun with hyperpartisanship because the game is tilted. Legislatures in too many states have spent decades gerrymandering districts that strongly favor one party or the other.
"The result: Deep red and deep blue House districts produce highly partisan politicians who rarely have to cater to independents or members of the other party to get elected, and have no incentive to do that once they get to Washington."
In short, "safe" seats where incumbents run for re-election without fear of defeat, and in some cases, actually run unopposed.
In Illinois, we know a little about gerrymandering. Since we had a Democratic governor and legislative body in 2010, Congressional districts were drawn to favor the party in power. It's not surprising we have 12 Democrats and only 6 Republicans in our Congressional delegation.

BUT ACCORDING to Politifact.org, states run by Republicans have been more effective in the stifling business of political gerrymandering. The organization designates 16 states heavily tilted to favor GOP candidates, and six where districts are carved up to favor Democrats.
We can look at a few examples by looking at Nicole Polizzi's "7 States Where the GOP is Stealing Elections Through Gerrymandering," published in PolicyMic on March 25. The first four are (in my thinking) most interesting.
North Carolina. In the 2012 election, the state was carried by the Democrats (51% of the popular vote) but sent nine Republicans to Congress, and only four Democrats.
Michigan. The same year, Democrats won the popular vote (52%) but sent only five Democrats to Congress, compared to nine Republicans.
Wisconsin. Again, in 2012, Democrats won the popular vote statewide, 51% to 49%, but elected five Republican Congressmen to three for the Democrats.
Pennsylvania. 2012 popular voting totals favored the Democrats statewide, but 13 Republican candidates went to Washington, only five Democrats.
These are a few dramatic examples that saw states under Republican "rule" rig Congressional district lines so carefully so as to outwit the voters.
What to do? USA Today offers this suggestion: "California is the most recent of five states (the others are Alaska, Arizona, Idaho and Washington) that use independent commissions to insulate the redistricting process from partisan politics. If more states opted for this approach, more House members would come from politically diverse districts and reposition themselves in the political center."

THE OTHER four "ways" the newspaper advocates are probably valid, but don't seem (to me) as compelling or basic as curbing gerrymandering. And in some cases, seem connected to this overriding, needed correction.
#5, for instance, "Fight the extremists," is essentially what curbing gerrymandering is all about.
#4, "Elect more women," may be a good idea, but how convincing is it really? The editorial says, "Women can be as hyperpartisan as men, but if compromise, common ground and actual results are important, politics could use more estrogen and less testosterone."
Maybe so. Few men appreciate women in the professions more than I do, but let's not forget this is the same gender that brought us wing nuts like Sarah Palin, Christine O'Donnell, Michelle Bachmann, and Sharron Angle, among others.
#2, "Drop conventions," argues for the elimination of choosing candidates "by a convention or caucus of activists." For example, "In 2010 in Utah, a party convention replaced conservative incumbent Senator Robert Bennett with Tea Party favorite Mike Lee, who went on to become a ringleader of last month's federal government shut down.
"At least in a primary, there's a chance to survive."
#3, "Revamp primaries," is a call for "open" primaries. The editorial suggests "Closed primaries—where only party members can vote—can produce nominees just as extreme as conventions. A better way is to open primary elections to independents or even to all voters, who at least in theory can pick more moderate nominees."
"In its purest form, this sort of primary happens now only in California and Washington state."
It's interesting to note in this connection that California's Republican representatives voted 8-7 to avoid a federal government shutdown in October, while Washington Republicans voted 4-0 to keep the government open.

IN MY OPINION, these are all good ideas that would lead to more efficient and constructive behavior in a gridlocked government. The House and Senate would become welcoming places for moderates and across-the-aisle cooperation could actually become a nation's gift rather than a political minefield. Something might actually get done.
Good work, USA Today, but how do we put these five ideas into practice? Entrenched political self interests guard their positions like mama lions. They are not likely to step aside.



---
Gardeners Tips
by Helen J. Leake
McLean Co. Master Gardener


December 05 2013

Mulch your trees for protection

With the colder weather and the grass, clover, and other plants not growing, the rabbits, mice and voles will be looking to other places for food They will be forced to look to the bark of trees and shrubs for food. Rabbits and mice could easily damage trees and shrubs by gnawing on the bark.
We put 2 to 4 inches of mulch around the base of the trees and shrubs to protect their roots from the freezing and thawing, and it also helps to hold the moisture. However, it does make a nice home for mice and voles. That is partly why we say to keep the mulch back from the trunk 2 to 3 inches. The base of the trunk also needs to be able to have air exchange,
To prevent the rabbits from being able to chew on the bark of the trees and shrubs, you can put a fence made of chicken wire or hardware cloth. You might want to stake it so they can not push it in. You can also buy tree protectors to place around the tree trunk. This should be high enough in case of deep snow. for the rabbits to be able to reach higher on the tree.
There are chemical repellents, but they may wash off or lose their effectiveness in warm weather. If you use chemicals, be sure to follow the directions on the container.



---

Get your copy of
Best Look Magazine
today!
Every story has a photo, every photo has a story

McLean County's Sports and Leisure Magazine
Published Feb 15, May 15, Aug 15, Nov 15
December 05 2013

Passing pension reform a must for Gov. Quinn
As I write this, the House Speaker, Senate President and the two Republican minority leaders have announced a deal on a long-awaited and much-anticipated pension reform bill.
Other than the obvious fact that pension payments are diverting billions of dollars from other state programs like education and human services, Gov. Pat Quinn really wants this proposal passed before the end of the year for a couple of reasons, both political.
Illinois statute requires the governor to propose a new budget based on existing statutes. In the past, governors would almost always say they'd balance the budget if a new tax or fee was passed, or funds were transferred or programs were legislatively changed. That's no longer permitted.
Gov. Quinn's Fiscal Year 2015 budget address is scheduled for February 19th. If a pension reform bill is passed and signed into law by the end of the year, it won't take effect until June 1st. But that's after the budget address and before the start of the new fiscal year. So, Quinn could still use the proposal's expected savings when he introduces his budget.
And that's important because most of the temporary income tax increase expires smack dab in the middle of the coming fiscal year, which will blow more than a $3 billion hole in Quinn's budget. And that means Quinn will be forced to introduce a budget that makes huge cuts if pension reform doesn't pass.
If pension reform passes by the end of the year, the savings, which could be as high as $1.8 billion in the first year, can legally be used to "balance" Quinn's introduced budget. With a strong revenue forecast, it's possible that the coming year's revenues could almost cover the remaining hole from the tax hike expiration.
That doesn't mean, however, that Illinois' finances would be in the clear. If past is prologue, a court will either set aside the new pension law while its constitutionality is adjudicated, or (perhaps more likely) require that any savings produced by the law be placed into an escrow account. If that happens, then legislators and Quinn will have to deal with a new hole.
The responsible thing to do, of course, would be to not include the pension reform savings in a new budget if the bill is passed. But that would mean proposing an election year budget that slashes education and human services to the bone, and what governor wants to do that ever - let alone in an election year?
And that brings us to the second reason.
The state pension systems are in dire straits because the state has never made enough contributions to the systems. For proof, just look at municipalities outside Chicago, which are required to make full payments. The Illinois Municipal Retirement Fund is very close to being fully funded. No crisis at all.
Quinn and the legislative leaders have long pushed for a funding guarantee to make sure that the state doesn't skip its payments again.
But Republican gubernatorial candidate Bruce Rauner, who now leads the GOP primary field in two recent polls, is dead set against a funding guarantee.
Does Rauner really want the state to have the flexibility to skip pension payments again, which could lead to even more problems down the road? Well, there's something else going on here.
Rauner wants a complete revamp of the pension system. He'd immediately put employees into a 401(k) plan instead. The irony is a bit rich here. Rauner's investment firm made a fortune off of investing state pension fund money. Rauner is now semi-retired and reported making $53 million from his investments last year. A retired teacher making $53,000 a year would have to live another thousand years to equal one year's income for Rauner.
Anyway, the funding guarantee is mainly just an excuse to derail the pension deal. Once pension reform is passed, it's doubtful that legislators will want to revisit it unless the courts strike it down as unconstitutional. And since the proposal has support from the most powerful Republicans in the Illinois General Assembly, it would be uncomfortable for Rauner to continue his harangues against the compromise over the next year. Better to just kill it up front.
So since Quinn could end up facing Rauner in the general election, defeating the wealthy Republican on the legislative battlefield now would take some air out of his well-funded campaign down the road.
Passing this bill, in other words, is a must-have "twofer" for Quinn.


Rich Miller also publishes Capitol Fax, a daily political newsletter, and thecapitolfaxblog.com
---
Need artwork for your home or office?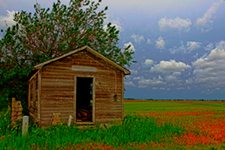 Check out the
Canvas Gallery Wraps offered by Alan Look Photography
!