February 13 2014


Winter Blues
Bill slipped and fell on some ice and suffered two fractures. He is doing fine and now recuperating at Martin Health Center. Cards may be sent to 2025 E. Lincoln Street, A106, Bloomington, IL 61701.





---

Alan Look Photography - Bloomington - Normal's Best Look in Sports Action Photography
Images from recent games are available for viewing and purchase

---

They Call Me Spence
by Brad Spencer
Award winning journalist

February 13 2014

Gay or straight, I don't really care
Congratulations to NFL hopeful Michael Sam for announcing that he is gay.
But I don't care.
I mean, really, is it going to affect the way he plays football? Does Johnny Manziel now need to announce that he's straight?
The information is irrelevant to me and should be to everyone else, except maybe for his future teammates. Please, let me explain. Being gay means you're partial to the same sex, which, in this case happens to be the male gender, a gender that exclusively fills out the NFL. There are no females in the NFL. If there were, they would surely not share a locker room with the males due to our society's sanctimonious etiquette.
Allow me to digress for a moment and mention (brag) that I have been inside the Dallas Cowboys cheerleaders' locker room. It's an enormous, brightly lit, heavenly place. Life-size photos of the cheerleaders wearing their skintight short-shorts fill the walls above the numerous lockers. The showers are spacious and... oh, if the mirrors could talk!
Wait, now I'm sounding juvenile. I apologize. My point is I stood in the middle of that locker room searing my brain with mental images that I am not very proud of but, damn it, just sort of showed up. The good news is there were no cheerleaders in that locker room at the time, not one changing her clothes before and/or after a game. See, I'm not allowed in a female locker room when females are changing their clothes, simply because I'm a man.
This leads me to surmise that while Michael Sam's announcement is commendable and courageous, it does bring up the question of whether or not he'll be allowed use of the same locker room as his fellow teammates. Or will the team that drafts him need to make appropriate accommodations in the manner of a private locker room?
At any rate, locker room etiquette is small potatoes in the grand scheme of what this announcement is supposed to represent. After all, Michael Sam is looking at changing the way society thinks and views homosexuality in sports, particularly a gritty sport like football. When he is drafted this spring he'll become the first publically gay current-NFL player. There has never been an openly gay professional athlete in any of the three major sports.
And as I stated, I don't care about his gayness. I don't care if he's gay or straight or he likes to get it on with coconut trees. His personal life is not my concern.
I hope the GM who drafts Michael Sam thinks this way as well. I hope he's picked not because he's gay but because he can help an NFL team succeed. I just hope no team uses this as a PR ploy, banking on the attention that will surely follow as he becomes a Jackie Robinson-type pioneer.
It's sad to think such a thing could happen.
Integrity is something I do care about it.




Brad Spencer can be reached at Brad.E.Spencer@gmail.com
February 13 2014

IWU Basketball - the 'Right' Way
SOMETIMES a great notion comes in the briefest of moments, the softest and gentlest of tableaux. Not with fanfare or drumroll, but in a whispered communication.
Almost like Sandburg's "little cat feet," but still with meaning broad and wide.
I witnessed such a moment at a recent Illinois Wesleyan basketball game. Just before the players took the floor, as Head Basketball Coach Ron Rose was about to deliver final instructions to his players, he interrupted himself and headed into the bleachers.
Rose, as decent a human being as you'll ever find in the coaching profession, was headed to comfort an elderly, loyal Titan backer who is fighting serious health problems. The coach took the man's hand and put an arm around his shoulders before saying quietly, "You're in my prayers every day."
Then, and only then, was it time for basketball. It was a moment, according to Mia Smith, IWU women's basketball coach, that "made time stand still."
I only overheard these whispered words of comfort because I was sitting so close by. One coach, one man, one moment. But I was so moved at that instant, I find myself motivated to share the "broad and wide" with Normalite readers. It showed that basketball can have meaning. And that meaning is family.
The home team may win (they usually do) or not; but the meaning stands in place.
I too have been on the sick side of the evening, surrounded by well wishers who swallowed me up like the closest of relatives. For many loyal fans like myself, aging and fighting medical issues, the game itself becomes a vital release. It's the charged portion of the release point, but the score will be forgotten, along with the sensational pass or the ripped rebound. After all, no matter how intense the struggle on the court, a game is still just a game. The family affair—the meaning--endures.
This was not the first time Coach Rose delivered such a moment of sensitivity and kindness, and it won't be the last.

ON THE WOMEN'S side, Head Coach Smith frequently engages in the same kind of loving, caring behavior on behalf of loyal fans. Just for starters, she called me last week to ask how I was doing after my recent surgery. She offered words of support and comfort. Just prior to a recent women's tip-off, she came up in the bleachers to squeeze my hand and give me a pat on the back.
Smith frequently seeks out individual, loyal fans by entering the bleachers to go one-on-one. It could be to offer comfort and encouragement to an ailing or grieving individual, or to "let fans know they are appreciated, to build and develop relationships." Smith, a cancer survivor herself, says, "I want my players to know the value of lifelong friendships, no matter the age difference."
One special lady is gifted with a floral bouquet by Smith and her players. "They were married for many years. He always gave her flowers. Since his death we have been the 'Sweetie' that carries on the tradition."
Family? Could it be any plainer?

OLDER READERS will recall Jim Barnhart, who served as Pantagraph sports editor for many years and later wrote for the Normalite. In his later years, Barnhart declared in an article that he had finally come to the conclusion that the "Wesleyan way" was the best way to go in college athletics. He pointed to the fact that IWU players were true "student-athletes" competing for the love of the game.
Barnhart was right. Basketball players (men and women) at Illinois Wesleyan meet the same entrance requirements as the rest of the student body, and since there are no athletic scholarships, have to cobble together a financial package to pay their way. Often, the players have to take out large student loans that may take years to repay.
As for the "student" part, all you have to do is look at the Titan website rosters and check out the players' major fields of study. You won't find "general studies" or "sports management" or any other form of academic shelter. Instead, you'll find chemistry, accounting, finance, history, psychology, physics, mathematics, economics, and English literature. Among others.
There is no system of academic tutors for point guards or power forwards. Just academic discipline, hard work and a lot of time in the library. For those who may doubt me, here are but a few examples: On the women's side, senior guard Katy Seibring, a mathematics major, has just been awarded a Woodrow Wilson Teaching Fellowship.
Her feisty teammate and captain, Lexi Baltes, has just been elected to the Capital One Academic All-District Women's basketball team. She has a 3.89 GPA in English and Political Science. She is a Phi Beta Kappa Fellow who was the 2012 winner of the "Elite 89" award for carrying the highest GPA among players in the Final Four.
She had company that year on the men's side. Titan center Nick Anderson, a business/marketing major, won the same award as the IWU men also reached the Final Four. Anderson's teammate, Andrew Ziemnik, has (like Baltes) been elected to the Capital One Academic All-District Men's basketball team. He has a GPA of 3.42 while majoring in business/finance.
Yeah, Barnhart was on target. There is a "right" way.



---
Gardeners Tips
by Helen J. Leake
McLean Co. Master Gardener


February 13 2014

When will the snow and ice disappear?

The daylight hours are getting longer and we want to get outside and do something, if only we could get rid of the snow and see the ground.
The best time to prune grapes is usually February and early March, You want to prune after the coldest part of winter is past and before the buds begin to swell. Pruning during the summer is not recommended. Because fruit clusters only form some buds on 1 year old canes, the vines must be pruned to encourage vigorous new canes to develop. Most gardeners do not prune severely enough. Proper pruning often necessitates removal of 80 - 90% of the wood.
If there has been wind or ice damage to the trees or shrubs, you should prune the damaged limbs out. Remember when cutting a branch, cut it back to the collar (the wrinkled part) at the stem. That way the open wound can heal over. You do not need to paint over it. If you leave a stub, it will not heal over and insects or disease can enter. In time the stub will die.
Check around your fruit trees and young trees for rodent damage. If you have more than a couple of inches of wood chips at the trunk, the rodents have a good place to set up residency, Roots and bark are handy for dinner. keep the mulch back a couple of inches from the trunk.
Because tuberous begonias are slow to start, they can be started now. Place the bulb with root side down in good potting soil, water and place it in a warm place in the house When you water your house plants, rotate them them 1/4 of the way around. That way they will not lean toward the light, Use water that is room temperature. Too cold of water will shock the roots. Put the water out the night before so it can warm up or you can keep a milk container of water out all the time so it is always ready to use.



---

Get your copy of
Best Look Magazine
today!
Every story has a photo, every photo has a story

McLean County's Sports and Leisure Magazine
Published Feb 15, May 15, Aug 15, Nov 15
February 13 2014

Typical Illinois Politics
One of the reasons why people near Treasurer Dan Rutherford are so nervous these days is because of the possibility that other employees might come out of the woodwork with even more allegations.
As I write this, the publicly revealed facts are still quite thin. A now former employee of Rutherford's has claimed, without producing any hard evidence as of this writing, that he was sexually harassed and told to do political fundraising work. Rutherford has flatly denied the allegations, claiming they are politically motivated and part of a shakedown attempt that's being pushed by his Republican gubernatorial primary opponent Bruce Rauner. The former employee, Rutherford claims, demanded $300,000 through his attorney to remain quiet. Rauner has denied any involvement.
The treasurer's office has negotiated two previous severance agreements, a fact that the accuser's lawyer alluded to last week when she told WLS Radio's Dan Proft "Their standard MO [mode of operation] is to work out standard severance agreements. That's what they do, and they've been doing that the last two or three years with employees."
But a top Rutherford aide completely and adamantly denied last week that the prior severance agreements had anything to do with any sort of allegations of misconduct by Rutherford whatsoever. So, Rutherford's allies can probably rest easy on that potential problem because it likely doesn't exist.
Rutherford has a reputation among his friends and acquaintances as being a pleasant, positive, somewhat quirky, but almost always upbeat guy. You can't help but like the man. He's one of the truly nice guys in this state's political world.
Working for Rutherford, however, is sometimes anything but a pleasant experience. He is, like many in politics, a man driven by ambition who has long aimed his sights at a higher office. He works almost nonstop, and he doesn't care for those who can't keep up with him or don't meet his standards.
For instance, several weeks ago, Rutherford, an aide and a driver were on the road. Rutherford was not happy with the driver's performance at an event. As punishment, Rutherford ordered the driver to remain in the car while he and the other aide went into a restaurant. Rutherford also reportedly took the car keys with him into the restaurant. The devastated young man called his sister and had her pick him up and quit on the spot.
A top aide to Rutherford confirmed the story the other day, but brushed it off, explaining that everybody has their bad moments. We all do, indeed, have our bad moments which shouldn't wind up being used to judge our complete character.
While admittedly on the extreme end of his personality spectrum, it's that sort of behavior which has Rutherford's allies worried about what some other employees might say to a lawyer or a reporter. And there are a dozen or more stories of a similar nature. The treasurer, to put it bluntly, has more than a few disgruntled people in his office.
But potential trouble from revenge-minded employees represents only a small part of the storm facing the treasurer. Word from inside is that the folks who say they can corroborate allegations of sexual harassment and pressure to raise campaign funds by Treasurer Dan Rutherford were telling their full stories last week to the independent investigator appointed by Rutherford to get to the bottom of the story. We'll see if those stories hold up to scrutiny.
The very real possibility of a Rutherford political collapse has not yet completely deterred labor groups from pushing ahead with their plan to attack Bruce Rauner via negative TV ads. However, they don't seem as confident as they were a month ago that the strategy will work.
One top labor official said last week that he never thought they had more than a 25 percent chance of defeating Rauner in the Republican primary, even though a month ago he appeared quite confident they could throw a knockout punch.
The fallback plan appears to be to tarnish Rauner enough in the next month or so that he doesn't start off with a huge and insurmountable lead over Gov. Pat Quinn after the primary ends. Quinn is already trailing all four of his Republican opponents by eight to ten points, so, barring a knockout, they want to stop any further Quinn erosion and knock Rauner back on his heels a bit.


Rich Miller also publishes Capitol Fax, a daily political newsletter, and thecapitolfaxblog.com
---
Need artwork for your home or office?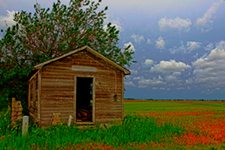 Check out the
Canvas Gallery Wraps offered by Alan Look Photography
!