August 21 2014


Equator Encore
Last week's escapade about the rites of passage across the Equator drew some reactions from people whose opinions I respect. One was sister-in-law Annabelle who compared the molestations afflicted by Shellbacks upon Pollywogs to those administered by Japanese on American prisoners of war.
Another reaction was from high school friend Martha G. who wondered how we could expect world peace when there are people who enjoy inflicting pain on others. Sister Jo thought the treatment I received was brutal.
As a fraternity pledge I was told--after being swatted with a barrel stave--that I would have my opportunity when I became an active. Trouble was, I was drafted before becoming an active. And in the Navy I never crossed the Equator again except coming north on a ship full of Shellbacks.
I wasn't revengeful. I didn't particularly want to hit anybody. I hadn't been maliciously treated. I wasn't abused. I've known a few mean people, and the people who swatted me were not mean.
Crossing the Equator was what brought me and Red Crane together. I wouldn't regard Red as mean. In fact, he was very good-humored. There was always a crowd around him listening to his stories.
What made Red's stories good was his colorful language. Not cuss words, although there was a ready inventory of those. But his talk sparkled with vivid images, startling similes, and the use of unexpected words.
Red's language wasn't the only thing about him that was carefree and daring. His actions were often wild and unpredictable. Like the time he was leaving a bar in Brooklyn just as a much-decorated Marine was entering. The Marine didn't bump into Red or say anything provocative.
But Red hauled off and hit him on the jaw levelling him. There was no malice involved. Red just probably wanted to see if he could do it.
Stories like this made Red notable aboard ship, and I was warned not to cross him. He wouldn't have noticed me anyway. I was a lowly seaman and he was a Machinist Mate First Class.
But Fate has a way of entangling lifelines of people that Nature no doubt meant to keep separate. On a fateful day Red would make an indelible impression on me and all in the line of duty. That was when we crossed the Equator and he was promoted to Royal Devil. And with his chain he awarded me the red badge of courage.
The Fox returned to Brooklyn in April. Red had married a girl at Christmas and was given leave to go home to Tennessee. What happened there, I overheard Red's brother, also a Machinist Mate, tell a group of Red's friends.
The Cranes had been feuding with another family for years. One day as Red was sitting on the front steps enjoying the spring sun, a member of the rival clan snuck up and put three rifle shots into Red, killing him.
Red didn't deserve that. He never would have snuck up on an adversary. He always met them head-on. Unless he was wielding a chain, and then he was gentleman enough to make a flank attack.




---

Alan Look Photography - Bloomington - Normal's Best Look in Sports Action Photography
Images from recent games are available for viewing and purchase

---

They Call Me Spence
by Brad Spencer
Award winning journalist

August 21 2014

There's more to the fury in Ferguson than meets the eye

What happened in Ferguson, Mo., obviously, was racial unrest, a great divide between citizens and local law enforcement authorities. What did not happen was objectivity, on either side of the issue. And it's a much bigger issue than whether or not officer Darren Wilson used excessive force leading to the death of Michael Brown.
The media descending on Ferguson with its cameras and intrepid reporters has been kerosene to a place already smoldering due to its flagging relationship between its citizens and those that are sworn to protect them. All that was needed was an open news hole. All that was needed was the federal government getting involved. All that was needed was the president himself holding a press conference in regards to the situation. The confrontation between Wilson and Brown was the spark.
A white cop shot and killed an unarmed black man in the middle of the street. That's a fact. And that's what the fury in Ferguson has solely been about. Without specific details, there's no way to dispute such a terrible tragedy occurred.
But did a white cop shoot an unarmed black man in the middle of the street for no other reason but for the color of his skin? I'd like to think we've advanced too far as a society for such a thing to occur.
The local police authorities are to blame for numerous indiscretions in this case—most notably the simultaneous release of the officer's name and video footage of Brown assaulting a convenience store worker in the act of committing a robbery shortly before the shooting. This is, I would gather, what led to the president's dispatch of Attorney General Eric Holder, who had 40 or so FBI agents canvassing the area for eye-witness accounts, legitimate eye-witness accounts. Not the initial accounts that every news station seemed to initially jump on, "He was running away when he was shot like a dog in the street." Such an account refutes three autopsies by three different agencies, including one commissioned by the family of Brown.
Without accurate, objective and timely information, we jump to conclusions too quickly in this world. The real issue here is that there are people who assume Michael Brown was killed because he was black. That's a problem. There are people who assume that officer Darren Wilson killed Michael Brown in self-defense. That's also a problem.
Oversight and ignorance by both parties, inaccurate lightning speed news dissemination, and an already incendiary racial divide has ultimately led to riots in the streets of Ferguson, disrupting a pivotal investigation where details could expand on the incident itself. The riots are a show of disrespect for Brown and his family and for the city these citizens call home. Armored vehicles? Looting? Riot gear? Tear gas? Is this 1964 or 2014?
There's a much bigger issue here


Brad Spencer can be reached at Brad.E.Spencer@gmail.com
August 21 2014

How to Write a Letter to the Editor
A RECENT LETTER to the editor at The Pantagraph brought out the old English teacher in me. English 101, to be precise. Like the other members of my department, I had to grade about 100 essays over a weekend, then repeat the process seven or eight times per semester.
English 101 is usually relished by freshmen students about as much as root canal work. The writing assignments they recoiled from a little less than others were the essays of argument/persuasion because they got to express their opinions.
"Be specific!" we implored them all, probably enough times in a semester to fill a gallon bucket with pennies.
The Pantagraph letter to which I refer carried the headline "Time to Impeach President Obama." It's long on spleen but short on focus, development, and documentation. Letters to the editor are essentially short essays of argument/persuasion; at least they should be, if the writer wants to be credible.
If I were charged with the job of grading this piece of writing, I would start with focus. Like most essays by inexperienced writers, this one has not found a way to narrow its subject. Consequently, the piece is all over the map, so it has little time or space for specific details of support.
In a short space, the author denounces Obama for everything from Social Security and Medicare, religious rights, health care, job losses, welfare, the national debt, higher taxes, the hungry and the homeless, to indifference to military veterans, and weak protection from terrorists. To become convincing, the letter would need to show us specific documentation for each of these charges, which of course is impossible in two or three hundred words.
Here would be the first point at which the red pencil comes out and the margin notes begin (before computers anyway): "Your material is far too broad to manage. To write effectively, you need to find a way to limit your topic."

THE LETTER claims that "our religious rights [are] gone." Now comes the red pencil again. "Our religious rights are gone? What does this mean? Can you provide examples of where in our country we have lost such rights? Are we no longer free to worship in the churches and synagogues of our own choice? Has the Supreme Court recently banned the Pentecostals or the Mormons? Please show me."
The writer levels the charge of "fewer jobs (except government)" on the president's watch. Red pencil time again: "Is there data to support this charge? Can you document it with any details or studies?"
In this particular instance, it would be far easier to argue for the opposite position, that which touts the country's recent success in job gains. For instance, every American who can open a newspaper or turn on the TV knows that the rate of unemployment in the U.S. is far lower now than when Obama took office.
Support the improving job market claim? Here's one way how: According to a recent UBS analysis, "Over the past two months, mid-and high-wage industries have added 257,000 jobs, while those with lower pay added 210,000, according to the research firm's analysis of Labor Department data.
"The development marks a shift from last year, when many economists and worker advocates lamented that payroll advances were concentrated in low-paying sectors such as restaurants and home health care.
"Overall, employers added 209,000 jobs in July, the sixth straight month of 200,000 plus gains. Manufacturers added 28,000 after adding 23,000 in June—the industry's two strongest hiring months of the year. Architectural and engineering services added nearly 9,000 jobs, the biggest monthly gain since 2006. Accounting firms have added about 45,000 jobs this year, up from 10,000 in 2013."

"WE USED TO BE No. 1 in the world, now we are almost at the bottom," declares the letter. Let's find the red pen: "Wild generalizations like this leave the reader with nothing to hold onto. Number one at what? Education? Science? Art? Travel destinations? Medical research? Video games? Military might?
"And if we are 'almost at the bottom,' what does that mean? Street violence? Agricultural production? Movie production? Cell phone towers? Morality? Highways? If you don't provide context or criteria, your sentence has no basis for credibility or even meaning."
Be specific!
Finally from the letter: "If you do not like what is going on, call your representative right away and demand Obama and his liberal friends be impeached immediately!"
What goes in the margin? "Please explain specifically which of your many attacks on the president rise to the level of impeachable conduct. And please identify which 'liberal friends' also need to be impeached. Members of his administration? Liberal members of Congress? Cabinet members? White House staff? Individual judges?"
Be specific!
In conclusion, to would-be letter writers out there, let's recap: Limit your subject to provide focus and make your claims convincing by supplying persuasive supporting information and data.



---
Gardeners Tips
by Helen J. Leake



August 21 2014

Time to stop fertilizing the trees, shrubs and perennials

It is the middle of August and time to start preparing the garden for winter. One of the first things to do is to stop fertilizing the trees, shrubs and perennials. We don't want them to send up new shoots. The new shoots might not have time to harden off to with stand the cold winter.
You should water the newly planted perennials, shrubs and trees deeply, so the roots can grow deep for the winter. They don't need deep watering more than once a week.
Remove and destroy any diseased plants. Also remove any wormy or diseased fruit that falls to the ground. That will prevent a mess and help stop the worms from returning to next years fruit.
Do you have dry spots in your lawn and you think it is caused by grubs? Cut a one foot square place on three sides in the lawn and pull the grass back. If you can count 10 or more grubs, you need to treat the lawn for grubs. If there are less than 10, it is best to leave them. They are loosening the soil. Also if you spray to kill the grubs, you will also kill the earthworms and other "good stuff" in the soil.



---

Get your copy of
Best Look Magazine
today!
Every story has a photo, every photo has a story

McLean County's Sports and Leisure Magazine
Published Feb 15, May 15, Aug 15, Nov 15
August 21 2014
Gov. Edgar…. 'The Blagojevich-Quinn governorship has been a disaster for Illinois.'
I'm not sure why, but the surprise appearance by former Gov. Jim Edgar at the Illinois State Fair's Republican Day last week didn't generate much media coverage.
Despite the fact that Edgar is a Republican, this was not an easy "get" for Republican gubernatorial nominee Bruce Rauner. I'm told it took weeks of careful wooing and negotiations through one of Edgar's old pals. Edgar backed state Sen. Kirk Dillard in the GOP primary against Rauner, but he has also expressed public and private concerns about how Rauner is portraying himself on the stump and about how that confrontational attitude could manifest itself if he's elected governor.
Another reason why I'm perplexed by the lack of coverage is that Democratic Gov. Pat Quinn has repeatedly gone out of his way to praise Edgar since Dillard's Republican primary loss. Quinn consulted with Edgar before his post-primary budget address, seeking his advice on keeping the income tax at current levels and providing some property tax relief. Quinn then mentioned Edgar by name during his actual address, saying the former governor was right to keep a tax hike in place.
If Quinn was hoping to somehow neutralize the still popular Edgar, he failed miserably. Edgar said at the State Fair last week that not only did Rauner have an opportunity to finally end one-party rule, but "The Blagojevich-Quinn governorship has been a disaster for Illinois."
Oh, man, that's gonna leave a mark.
"Outsiders" can make some Illinoisans uncomfortable. Despite the blathering of editorial boards and pundits, quite a few voters here subconsciously or otherwise still "don't want nobody what nobody sent." The Edgar endorsement could go a very long way toward soothing fears by moderate to liberal independents about how Rauner may be just too new, too unknown and too risky to be trusted with the office.
Meanwhile, four years ago I wrote that Gov. Quinn wouldn't know a campaign theme if it was bleeding to death in his front yard. His 2010 State Fair Governor's Day speech was rambling, disjointed and unfocused. Not this year. Quinn's theme so far is pretty darned clear: Bruce Rauner is an out of touch billionaire whose policies would harm working people.
But can it work? So far, the attacks seem almost juvenile, catty and not well produced. "Look! Over there! Rauner is rich! He's rich, I tells ya!"
The Quinn campaign appears to be following the Obama 2012 script very closely (and that script was based in part on Quinn's 2010 campaign against Bill Brady). The first thing they have to do is establish in voters' minds that Rauner is a plutocrat. Once that message is baked in, the big hits connecting him to nursing home and hospital deaths and whatever else the Quinnsters have in their opposition research files can be dumped on Rauner's head.
The political professionals who attended Governor's Day this year weren't confident at all that Quinn could pull this off. Then again, they had zero confidence in Quinn four years ago and he managed to edge out Brady. But, of course, there's no third party candidate willing to spend close to $4 million and split the anti-Quinn vote with Rauner this year, as there was in 2010.
In contrast, the GOP operatives who attended Republican Day four years ago were upbeat and hopeful, but quite concerned about the physical mechanics of GOP nominee state Sen. Bill Brady's campaign. Those fears turned out to be justified. This time around, there were few if any fears expressed about the way their guy is running his show.
And probably for good reason. The Rauner folks say that the Republican Governors Association has been tracking the number of contacts made at the doors by GOP gubernatorial campaigns. Rauner's door-to-door contact effort so far ranks number one in the nation - even ahead of Texas, which has a far larger population than Illinois.
Rauner, by the way, left after his State Fair appearance for a 38-county bus trip blitz through Downstate Illinois. The schedule looks brutal.
The idea is to pack as many Downstate appearances in before Labor Day and then focus mainly on the Chicago media market until November. It's the smart move because Downstate is so huge that it can't be easily and quickly traversed.
The governor, on the other hand, has focused much of his summertime attention on the Chicago area, perhaps because polls show he has real trouble with his Democratic "base."
Rich Miller also publishes Capitol Fax, a daily political newsletter, and thecapitolfaxblog.com
---
Need artwork for your home or office?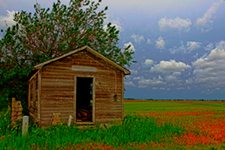 Check out the
Canvas Gallery Wraps offered by Alan Look Photography
!
---
Classic Colcalsure


The Rest is Still Unrwritten


by John Colclasure of Lexington
August 21 2014


Rags to Riches


One of the earliest vacations Mrs. C and myself endured was a 400 mile trip from Bloomington, Illinois to Crooksville, Ohio. At that time we had two little ones who were constantly asking "are we there yet?" With frequent stops at rest areas and every White Castle that I saw (Speedway, Indiana and Columbus, Ohio) we finally arrived near midnight at our destination. Even at that hour we were greeted by three of the most remarkable people I have ever met. No sooner had we arrived that a complete meal with all the trimmings was served. I was overwhelmed with their hospitality.
Thinking back, perhaps it may have been our very first trip anywhere (we were enroute to Washington D.C.) I can still see the smiling faces or Alice, Florence and Elsie. In the few days that we spent there, I learned a great deal about humble and frugal living, the Peabody Coal Company and the Roseville Pottery Plant. It seems that almost everybody worked or had worked at one of these two companies. Roseville Pottery, by the way, is still very collectable.
Perhaps, the most memorable portion of that visit, in addition to Alice playing several tunes on his "fiddle," was a Cranbrook Countermarche Loom that was regularly used, in the wash house out back of the main house. In case some of you have never heard of or let alone seen one, it is a device used to weave cloth. The basic purpose of which is to hold the warp threads under tension to facilitate the interweaving of the weft threads. Basically this means that in weaving cloth, the warp is the set of lengthwise yarns that are held in tension on a frame or loom. The yarn that is inserted over-and-under the warp threads, is called the weft, woof, or filler. Each individual warp thread in a fabric is called a warp end.
As I stood gazing over a partially completed rag rug entwined in that loom, it brought back memories of how heavy those rugs were and how long they took to dry on the clothesline. I can still picture my mother taking piles of clothes and cutting old, worn out and stained clothing, into strips for use in weaving "rag rugs." It was in those "olden days" where nothing was wasted. Today, one might call this process recycling or repurposing of such items as sun-bleached curtains, ripped sheets, stained clothing or whatever was available. Today we simply throw it in with the garbage and waste management will pick it up and dispose of it in a landfill somewhere. Perhaps you still have a rug or two from your mom or grandmother



Till next time…john