August 28 2014


On The Street Where You Live
Whatever happened to the word "street"? Developers go to great lengths to avoid using this word to represent urban thoroughfares. Daughters Viki and Kathy live on a "path" and a "terrace." The "path" is suburban but "terrace" is only a block from Wrigley Field.
Looking at the directory for a map of Bloomington-Normal, my eye fell on the stalwart letter "M." The two peaks might be mountains, but since "M" evolved from the Egyptian pictograph for water, the peaks are probably waves.
There are 100 thoroughfares in our towns beginning with "M." Of these, only 29 are "streets," but there are 33 "drives." There are 10 "courts," 9 "roads," 8 "lanes," and 5 "avenues." There's a "Mitsubishi Motorway" and a "Marvin Gardens" that must have strayed in from a Monopoly set.
When I lived on Summit Street across from Miller Park, all the parallel byways—Low, Mason, Oak, Lee, Koch, Madison, Center, Main, East, Wright—were "Streets." The southern-most block of Wright is a development called "Berenz Place" after "Heinie" Berenz.
Likewise, the byways running east-west—Wood, Miller, Bissell, Lincoln, Steward, Buchanan—were all "Streets."
The western boundary of my childhood was Morris Avenue. Why it merited the distinction of "avenue," I could never figure out. True, it went from Six Points up beyond St. Patrick's, but an "avenue" demands other characteristics besides length. The block before St. Patrick's it was cobblestone, like a street in Ireland. "Avenue" requires more aristocratic associations.
The tendency to use words other than "street" arose after World War Two. Suburban byways do not run straight, but curve and bend around. Fairway Knolls has not one thoroughfare called "street." Nor in nearby Fleetwood.
Perhaps developers chose "drive, road, lane" with their rural connotations to avoid the expense of laying sidewalks. There are no sidewalks in Fairway Knolls.
This new nomenclature appears prominent when examining plats of small towns. Danvers, I believe, uses "street" universally in the established village. But the new development to the southeast uses "circle, court, drive."
Hudson also has forsaken "street" in its move southward and employs "court, lane, drive." Lexington for Timber Ridge uses "road, drive, lane, court." Heyworth does not seem adverse to mix "drive" with "street." Towanda, however, has shown an admirable tendency to retain "street."
"Street" came from Latin "strata" and was borrowed when the English still lived in Germany. German "strass" is a cognate. "Road" is the native English word, but once "street" was borrowed, "road" was relegated for rural areas.
It's hard to imagine any substitution for "Main Street." That's as American as corn-on-the cob. You can't say "apple pie" because apples are not indigenous to the new world.
In "Little Town of Bethlehem" what if Phillips Brooks had written "in thy dark drives shineth." That would have been as incongruous as Roy Rogers singing "Happy Streets" instead of "trails."
We lived 40 years on Coolidge Street in Normal. Before that we lived 4 years on Henderson Circle in Lakeland, Florida, and 5 years on Fairway Drive in Bloomington. We were happiest in Normal. Presently I live on Bloomington's Lutz Road, but that's OK because it's out in the country.




---

Alan Look Photography - Bloomington - Normal's Best Look in Sports Action Photography
Images from recent games are available for viewing and purchase

---

They Call Me Spence
by Brad Spencer
Award winning journalist

August 21 2014

There's more to the fury in Ferguson than meets the eye

What happened in Ferguson, Mo., obviously, was racial unrest, a great divide between citizens and local law enforcement authorities. What did not happen was objectivity, on either side of the issue. And it's a much bigger issue than whether or not officer Darren Wilson used excessive force leading to the death of Michael Brown.
The media descending on Ferguson with its cameras and intrepid reporters has been kerosene to a place already smoldering due to its flagging relationship between its citizens and those that are sworn to protect them. All that was needed was an open news hole. All that was needed was the federal government getting involved. All that was needed was the president himself holding a press conference in regards to the situation. The confrontation between Wilson and Brown was the spark.
A white cop shot and killed an unarmed black man in the middle of the street. That's a fact. And that's what the fury in Ferguson has solely been about. Without specific details, there's no way to dispute such a terrible tragedy occurred.
But did a white cop shoot an unarmed black man in the middle of the street for no other reason but for the color of his skin? I'd like to think we've advanced too far as a society for such a thing to occur.
The local police authorities are to blame for numerous indiscretions in this case—most notably the simultaneous release of the officer's name and video footage of Brown assaulting a convenience store worker in the act of committing a robbery shortly before the shooting. This is, I would gather, what led to the president's dispatch of Attorney General Eric Holder, who had 40 or so FBI agents canvassing the area for eye-witness accounts, legitimate eye-witness accounts. Not the initial accounts that every news station seemed to initially jump on, "He was running away when he was shot like a dog in the street." Such an account refutes three autopsies by three different agencies, including one commissioned by the family of Brown.
Without accurate, objective and timely information, we jump to conclusions too quickly in this world. The real issue here is that there are people who assume Michael Brown was killed because he was black. That's a problem. There are people who assume that officer Darren Wilson killed Michael Brown in self-defense. That's also a problem.
Oversight and ignorance by both parties, inaccurate lightning speed news dissemination, and an already incendiary racial divide has ultimately led to riots in the streets of Ferguson, disrupting a pivotal investigation where details could expand on the incident itself. The riots are a show of disrespect for Brown and his family and for the city these citizens call home. Armored vehicles? Looting? Riot gear? Tear gas? Is this 1964 or 2014?
There's a much bigger issue here


Brad Spencer can be reached at Brad.E.Spencer@gmail.com
August 28 2014

The Cat on the Window Sill
TIME WAS, when I walked my dog throughout the neighborhood (about a ¾ mile hike), it was pretty decent exercise. For both of us. We moved at a fairly brisk pace, only stopping occasionally so my four-legged buddy could take care of business. I never gave him all the time he craved for simple sniffing; we kept moving.
As the years have gone by, however, I've become acquainted with many of my neighbors along the way and when they're in the front yard or driveway, we often stop for short visits. A few of those can take the juice out of the "exercise." I often compensate by walking laps on the Shirk Center track later in the day; there are no people there digging dandelions or waxing cars. There are often pretty girls, but I can walk and gawk at the same time.
The new dog walking norm aside, most of these neighbors are interesting. I guess most people are, once you get to know them a little. Some of these conversations are fluff, little more than routine "porch talk." Bob is getting new tires; Elaine has found a better way to deadhead her rose bushes.
Sometimes, though, the subjects have a darker side: Gail has recently lost a son to suicide; I have commiserated with her on several occasions. Others have a mission statement; Beverly, a Jehovah's Witness, convenes several of her brethren each Saturday morning, as they prepare to set sail for door-to-door proselytizing in a predetermined neighborhood.
Walt played linebacker briefly for the Kansas City Chiefs after a successful football career at Missouri. Bob and Lucy have adopted two minority children, who are now adolescents. The whole family often shoots baskets in the driveway together. Those kids, by the way, go to District 87 schools. On my side of the street, the kids are bused to Unit 5 schools.

ONE OF MY favorite spontaneous interlocutors (I still like author Henry James) along the way is Kendall, a retired man who grew up in small town Nebraska. He is a spirited Nebraska Cornhusker football fan who flies his bright red 'Husker flag on his mailbox every game day.
Kendall could find a clover on a golf green. He looks after his home and property with relentless diligence. Every bush neatly trimmed, the driveway always hosed down clean, and all screwdrivers in the garage cleaned, oiled and lined up with military precision on the pegboard. You get the idea: fastidious squared. Adrian Monk could be in a comfort zone anywhere in his home or surroundings.
But he's fun to talk to. We share memories of Nebraska, as my mother grew up in the same part of the state as he, and when I was a child our family usually spent our summer vacations visiting Grandma in Wayne, Nebraska.
A Hindu man and his wife are often walking along the sidewalk. There are a good number of Indians in the townhouses scattered through our neighborhood. These are not Cherokees or Navajos, but natives of India who have immigrated to our country. It seems as if a large number of them work at State Farm.
They walk (more like stroll) in sandals and the flowing garb of their native country. When I greet them, they press their hands together near their chest while bowing slightly. I haven't learned to pronounce their names, but my brief conversations with them make clear their gratitude that the Twin Cities are now home to a Hindu temple.

DIRECTLY ACROSS the street from Kendall's house is an attractive corner lot townhouse where Grace lives. She's a middle-aged woman who lives alone, and on weekends spends a good deal of time landscaping her property by trimming and shaping her yew bushes.
For years, Grace had a big shepherd mix dog named Buster who stared out the raised kitchen window to bark at Bo (my dog) and me as we passed. Then one day, although the kitchen window was lifted a foot or two, Buster wasn't there. And so it went, day after day, week after week.
Finally, on a Saturday morning, I found Grace outside. I asked her about Buster.
"I had to have him put to sleep," she said. "He was too old and suffering too much joint pain. It was time." Her eyes glistened as she gave me this report.
Several weeks later, I asked her if she planned to get another pet. "Not right away," she replied, "maybe later I'll be ready for that."
And so it went, while the weeks piled up. Then lo and behold, last week, we passed the raised window where a small yellow kitten was sitting on the sill. And staring. The kitten did not bark at us. Each day now, when we pass, the kitten is at its post, staring at us with rapt curiosity. Now the feline has become a daily part of the window configuration where Buster used to stand guard.
Grace has a new buddy, although I don't yet know its name. Sooner or later I will. A person living alone usually craves company, and often pets can provide it. It makes for a more welcoming recliner and/or a warmer hearth. I'm happy for her, but then I'm happy for all my neighbors who have gratifying elements in their lives.
All that's left is to learn the kitten's name. That'll come. But now that our "exercise walk" is turning into a social buffet, it's time for me to start walking laps again.



---
Gardeners Tips
by Helen J. Leake



August 28 2014

Keep an eye on your remaining ash trees

We have been hearing about the loss of so any Ash trees, dying from Emerald Ash borer, and keep worrying about the ones we have. If your tree looks healthy, but you still worry about it being infected, you should look for decline in the upper part of the tree. Also watch for young sprouts at the base of the tree and watch for D shaped holes in the bark. They will be hard to see because they are only about the size of a BB. If the bark on the trunk is splitting, lift it and look underneath. S-shaped tunnels could indicate EAB. If so, you need to treat it once a year or call an arborist to see what your options are. If you don't see any of these signs, enjoy your beautiful tree.
We are seeing the pretty colored mums in the stores. When choosing one, try to get one with a few open flowers and a lot of unopened ones. It will last longer than the ones that the flowers are all open.
It is time for you to cut off the stems of the peonies. Cut them to the ground and put them in the garbage or burn them. Do not leave them on the ground, because they could leave disease in the soil. You can also fertilize them with a mulch. Do not cut off the tree peony. The leaves will fall off later.



---

Get your copy of
Best Look Magazine
today!
Every story has a photo, every photo has a story

McLean County's Sports and Leisure Magazine
Published Feb 15, May 15, Aug 15, Nov 15
August 28 2014
Polls show downstaters don't like Quinn at all
Some recent Chicago Tribune polls results appear to indicate that support for raising the minimum wage in the state's largest city may be enough to increase voter turnout for a non-binding November ballot referendum.
The poll found that 84 percent of registered Chicago voters support a city task force recommendation to increase the minimum wage to $13 per hour over the next three years. According to the poll, 78 percent of whites and 92 percent of African-Americans and even 71 percent of Chicagoans making over $100,000 a year back the plan.
Democrats have been hoping to use the statewide non-binding referendum to raise the minimum wage to $10 an hour as a tool to help spur turnout in what is rapidly developing into a big Republican year. And with numbers like the Tribune's backing a much higher minimum wage, it does seem likely that the issue can be effective, particularly among African-Americans. Support above 70-80 percent is generally seen as having a ballot impact. Get above 90 and it's sure to drive votes. Then again, the comparatively "stingy" state ballot proposal, when compared to the Chicago proposal, might garner lesser enthusiasm.
Proponents are hoping to use the issue to convince 400,000 people to sign "pledge cards" stating they will definitely vote this November. So far, they've collected 70,000 cards, which they will use to track the signatories through election day.
The bigger question, though, is what Illinois House Speaker Michael Madigan does with all the money he's been raising to push the ballot initiative. Madigan, who is also the state Democratic Party chairman, has been traveling the country to raise cash. Everybody who chipped in to recall Wisconsin Gov. Scott Walker in 2012 is being paid a visit. Labor unions alone spent over $20 million on that race, and Madigan is telling those labor leaders that they can spend the money now to defeat the anti-union Bruce Rauner, or spend the money later to fight Rauner after he's elected.
The Republicans are attempting to convince themselves that Madigan will spend that cash on his hottest state legislative races instead of in Chicago and south suburban Cook County, where it would do the most good for the statewide ticket because of high numbers of African-Americans. Democrats have often complained in the past that "coordinated campaign" money has been redirected to Madigan's legislative races, and they're not sure what he'll do this year.
Most are fairly certain that Madigan won't have his candidates run away from the top of the ticket. The Speaker tried that in 1994, during a huge Republican wave. Late in the game, photos of Republican Gov. Jim Edgar started appearing in Democratic legislative mailers. But that backfired in a major way. It just helped Edgar win by a larger margin, which swept away Madigan's candidates. Madigan has to do whatever he can to boost Gov. Pat Quinn's prospects within his districts, and that means lots of voter registration and get out the vote activities. And none of those all important districts are in Chicago or south suburban Cook County.
But it won't be easy. I've seen some private polling results recently that show Quinn doing even worse than expected in suburban counties where Madigan has some other tough races. My own polling has shown Bruce Rauner doing quite well in suburban Cook County, which has trended Democratic over the years and will be the scene of several hotly contested Illinois House races.
And, the other day, a top Democratic strategist derided the Quinn campaign's attempt to convince Illinoisans that the job and economic situation is starting to turn around as "stupid."
"They're telling voters not to believe their own lying eyes," he complained. Focus groups, he said, are finding that voters "are so mad at the state of things that it insults their intelligence to tell them things are changing, especially in the Downstate communities."
The Democrat had knowledge of one particular Downstate congressional focus group which found people were "openly hostile to Quinn - like punch him if he was in the room at the time hostile." Madigan has one Tier One contest in that congressional district and another adjacent to the district.
So, keep an eye on Chicago and south suburban Cook "get out the vote" efforts. It's Gov. Quinn's best hope right now and a likely drain on Madigan's resources. If he spends lots of cash there, Quinn just might make this thing a close one.

Rich Miller also publishes Capitol Fax, a daily political newsletter, and thecapitolfaxblog.com
---
Need artwork for your home or office?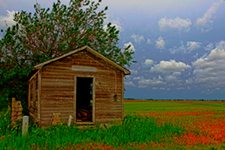 Check out the
Canvas Gallery Wraps offered by Alan Look Photography
!
---
Classic Colcalsure


The Rest is Still Unrwritten


by John Colclasure of Lexington
August 28 2014


Captain Stubby


Back in the day, while enjoying a 32 year career in law enforcement, I had the opportunity to direct traffic at the intersection of Veterans Parkway and East Empire Street during the McLean County Fair. My partner would have been a name that you would recognize, as he is most personable and a "hoot" to work with. The motoring public enjoyed his comedic words of enlightenment and affable behavior.
"Hook" and I traded amusing comments to those who were stopped for cross-traffic and upon hearing one in particular, "Are you going to the fair? "Captain Stubby's going to be there!" A common theme was born and an off-handed remark was later added," Bring me back a big ORANGE!" Folks, you simply would not believe how many big orange drinks littered the hood of our squad car. So much so that our lieutenant heard about it and came rolling by and asked us to remove the drinks from the hood and to "STOP" asking people to bring us stuff, as he put it. That was the end of that. I don't remember us stopping, but since this is such well-read column I shall relate that we did EXACTLY as we were told. Let's just say we never went hungry or thirsty that entire week-end, but we never asked for anything. The memory of Captain Stubby has remained for years.
Captain Stubby (Aka: Tom C. Fouts) passed away in May of 2004 at the age of 85. He was a farmer, author, columnist & comedian and a long-time fixture at the Farm Progress Show. The last Farm Progress Show in Mclean County was held in 1994 at the G.J. Mecherle Trusts, Pitts & Kinsella Farms east of Bloomington, Illinois. If you or your parents grew up on a farm, then you most likely remember reading Captain Stubby Sez in a publication called the Prairie Farmer. If you happen to be a history buff then you certainly will remember the popular radio station WLS was purchased in 1928 by the Farm Progress affiliate Prairie Farmer from Sears and operated it primarily as a service to farmers.
Captain Stubby had a very unique brand of humor and I have a cassette tape of one such recording entitled "Captain Stubby's Country Humor…#3." UGH! But this one is not on it, but I think it is appropriate. "A rancher in Montana got pulled over by a state trooper for speeding. The trooper started to lecture the rancher about his speeding, and in general began to throw his weight around to try to make the rancher feel uncomfortable. Finally, the trooper got around to writing out the ticket. As he was doing that, he kept swatting at some flies that were buzzing around his head. The rancher said, "having some problems with circle flies there, are ya?" The trooper stopped writing the ticket and said, "well, yeah, if that's what they are. I never heard of circle flies." So the rancher says, "well, circle flies are common on ranches. see, they're called circle flies because they're almost always found circling around the back end of a horse."
The trooper says, "oh" and goes back to writing the ticket....then, after a minute, he stops and says "are you trying to call me a horse's @#*?" The rancher says "oh no, officer. I have too much respect for law enforcement and police officers to even think about calling you a horse's @#*." The trooper says, "well, that's a good thing," and goes back to writing the ticket. After a long pause, the rancher says, "hard to fool them flies, though."
But if you happen to go to a fair, remember, Captain Stubby won't be there, at least this year!"


Till next time…john