July 17 2014


The English Speaker
"The English Patient" is a movie about an airplane pilot burned so bad his identity is mysterious. He is assumed to be English but is Hungarian.
My story "The English Speaker" is also about deception. When I started on the lecture circuit thirty five years ago, I would give a few personal details to the person introducing me. Usually, it would be the president of the Rotary or Kiwanis Club that had invited me to talk.
I told him I was a Professor of English. I was proud of my PhD from the University of Illinois where I was required to know Old English (Anglo-Saxon), Middle English and the various modern dialects of Irish, Scotch, American as well as the standard English dialect spoken in South East England.
It was a rigorous demanding curriculum involving phonetics, history, geography, and structural grammar. I was proud of having mastered it. But at my first talk, which was at Chenoa, the introducer kept referring to me as "professor of Speech." I was puzzled but didn't correct him. The talk which consisted of several farming poems by Robert Frost turned out well even if I was a speech professor.
A few weeks later in Decatur the introducer entitled me a "professor of History." I whispered "English" to him and thus became a "professor of English History."
After other like occurrences I grasped what was going on. The introducers were protecting me from my identity. English was the subject most men detested in high school. And for those who had gone on to college, this dislike was intensified by the torture of Freshman English.
I felt more comfortable speaking to women's groups. McLean County has a plethora of women's clubs and if you count all the church circles, there are hundreds. They are all looking for a luncheon speaker who could be paid off with a punch and a cookie. And my comfort level was high because girls usually liked English and got A's. I usually got a C.
A problem developed, though, in 1988 when the Supreme Court declared that women had the right to be members in service clubs. With women in the male audience I became hesitant. Hardly a boon for articulation.
Since men were more familiar with my idiom and examples, the Young Men's Club became a favorite audience. This is a local organization uninhibited by national ordinances. The only women present were waitresses. I felt safer using irony because I felt the male audience would intuit it. As it was, I was sometimes charged with racism or sexism where I intended the opposite.
However, perhaps my best reception was at a convention of the League of Women Voters. There were 299 women and one man in attendance. Avoiding irony for the beginning, I opened with positive statements from H. L. Mencken about the Nineteenth Amendment, giving women the right to vote.
He said the Republic had nothing to fear. American women were better educated and more intelligent than the men. They were less likely to be taken in by chicanery or hokum. At the conclusion the applause kept coming and coming. It was a glorious reception.



---

Alan Look Photography - Bloomington - Normal's Best Look in Sports Action Photography
Images from recent games are available for viewing and purchase

---

They Call Me Spence
by Brad Spencer
Award winning journalist

July 3 2014

The sweet and bitter sounds of summer
Ah, the sweet and tender sounds of summer: The rustling oak tree in full leaf. The swish-swish of a lawn sprinkler. The rich warble of a young robin in the early morn.
Yes, pleasant, precious and persistent are the sweet and tender sounds of summer. Sounds that ease your mind and soul into a joyful state.
But I haven't had the pleasure of hearing such sounds this summer. They've been drowned out by other sounds of summer, sounds that grate on your patience, sounds that grow robotically repetitive, sounds that irritate and frustrate and aggravate. Exasperating sounds that emanate from some of the most adorable faces. Annoying sounds that even emanate from within our own selves.
These morose sounds of summer usually arrive in the form of the most baffling statement of all, a declaration that no mature adult has ever muttered: "I'm bored. I don't know what to do."
Good-golly! It's summer, sweet child! You're bored and you don't know what to do? Prune the hedges, wash the car, water the flowers.
The sounds grow impatient and impractical. "Can we get ice cream?"
Well, that's for sure a swell idea, if ice cream hadn't been gotten yesterday, and the day before, and twice on Sunday. Now, shut the door. The air-conditioning is on.
The sounds turn sticky.
A child, parched and rushed to do nothing, has spilled lemonade all over the kitchen floor.
"Can we go to the pool?"
Of course, but you'll have to air dry because there are 27 wet towels on the floor of your bedroom. And how about shutting the door. The air-conditioning is on!
"Can we ride bikes?"
Yes, why haven't you left yet? On your way out, shut the door. The air-conditioning is on.
"I lost a flip-flop."
Why should that matter when you've been running around in your bare feet for 72 hours straight? And, hey, shut the door. The air-conditioning is on.
"Can we catch lightning bugs?"
Not with the casserole dish that still has casserole in it. Here, use the empty lemonade pitcher. And shut the door. The air-conditioning is on.
"Can we get ice cream again?"
Oh, haven't you had your daily intake of frozen liquid sugar cane cow's milk yet? Fine, let's go, but shut the door. The air-conditioning is on.
"Can I make more lemonade?"
Yes, but this time don't fill it to the brim. And shut the door. The air-conditioning is on.
"When does school start?"
That is a great question.

Brad Spencer can be reached at Brad.E.Spencer@gmail.com
July 17 2014

Aaron Schock is no Moderate
I SET OUT to write a column demonstrating that Republican Congressman Aaron Schock, representative of Illinois' 18th congressional district, is a "moderate," a breed apart from so many right wing extremists in his caucus.
Why? Because I'd like to believe that my congressional representative is capable (or likely) of working constructively with Democrats in a bipartisan way to help relieve Washington gridlock and therefore contribute to the actual business of governing.
I came up empty. I sent him a series of questions aimed at allowing him to place himself among moderates. I identified myself as a columnist from our area and stated my purpose, but I was never able to speak with him, either by e-mail or phone. There were too many gatekeepers.
Chief among them was Schock's D.C. senior advisor, Benjamin Cole, who finally called me July 2 after I'd made repeated attempts to reach the congressman. He told me my questions were too "caustic" and he would not pass them on to Mr. Schock. He also said he didn't want to position the congressman to "drive a wedge in the Republican party." Who knew the Normalite newspaper group had such vast power?
He went on to say, "The congressman is no moderate and has never classified himself as such. He's a conservative." I found the phone call odd because in a June 16 e-mail he told me, "I certainly understand what you're trying to do here, and I appreciate the direct approach."
But his quick and firm assertion that Schock is a conservative, not a moderate, turned over a couple questions in my mind (questions I didn't ask). Where is it written that a politician (or person) can't be a moderate conservative? I have several friends who are moderate Republicans and don't mind saying so.
Does fear play a part? Is Schock one of the many conservative Republicans terrified by the Tea Party extremists lurking in the shadows? Would any suggestion that he might back the president on anything at all undermine any claim to ideological purity?
We could ask Eric Cantor about that.

SOME OF THE questions I submitted (several of which require simple yes or no answers) make up my personal litmus test. Some of the questions are about President Obama. There are scores of Republican congressmen/women across the country in "safe" districts gerrymandered to the hard right who will simply run against the president in November's midterm elections. That's what their constituents want to hear.
Will Congressman Schock be one of them? Chances are he may be, but I can't confirm it because I was unable to speak to him.
In any case, here are the questions:
1. Are you willing to state publicly that you believe President Obama to be a loyal American, born in the United States, and a man who loves his country?
2. Do you regard the President as a loving family man and parent who represents a good parenting model for minority young boys and men?
3. Are you willing to refute publicly the claim made by extremist media members that President Obama is a Nazi/Marxist style dictator?
4. Are you willing to refute publicly the claim made by media personalities that the President has a "deep seated" hatred for white people?
5. Are you willing to refute publicly the charge that the President is "Anti-American?"
6. Are you willing to refute publicly the statement that the President is a Muslim who is infiltrating his administration with members of the Muslim Brotherhood?
7. Are you willing to refute publicly the attacks made on the president by media people that the president is a socialist and/or a communist?
8. Have you signed the Grover Norquist pledge to vote against any new tax or the closing of corporate tax loopholes? This, to my way of thinking puts an individual congressman/woman in the "hard right" tent with Tea Party extremists.
9. How many times (if any) have you voted to repeal the Affordable Care Act? Do you feel the time has come to stop trying to repeal the ACA and work in a bipartisan fashion to find ways to improve it?
10. Are you aware that the basic principles of ACA (Obamacare) are rooted in long-standing Republican positions (dating back at least as far as 1989) and healthcare initiatives, particularly the individual mandate?
11. Can you cite at least a half dozen pieces of legislation you have supported across party lines in a bipartisan manner?

ANY FAIR-MINDED AMERICAN, whether politician (of either party), teacher, bus driver, farmer or insurance salesman should be able to answer "yes" to questions 1 through 7. A "yes" vote to number 8 suggests a rigid lawmaker who will be a knee-jerk obstructionist unwilling to seek compromise on any and all tax reform initiatives.
Question 9 seeks to know if a Washington Republican has enough backbone to stand up to Tea Party extremists and assume the role of statesman. Number 10 opens the question of knowledge of history. I find it astonishing that many Washington politicians, as well as voters across the country, have little knowledge of "Obamacare's" Republican roots.
Congressman Schock (or one of his staffers) might have had to take a little time with question 11 to identify legislation. Any D.C. lawmaker who can't identify such particulars is probably an extremist (Democrat or Republican) who doesn't work for bipartisanship or compromise.
Based on my repeated (and unsuccessful) attempts to access Aaron Schock or interview him, I don't expect to find him saying anything to put space between himself and radical Tea Partiers as he campaigns in this year's midterms. Perhaps he fears the possible repercussions many other GOPers do. His Democratic opponent, Darrel Miller, is a "conservative" Democrat who is a political novice with much less campaign money than the congressman.
Schock should win re-election in the 18th no matter what he says or does. Perhaps his campaign will feature a festival of Obama bashing rather than a grownup, constructive exchange of ideas on important issues like renewable energy, immigration reform, or funding for infrastructure. I find it discouraging that such an approach might resonate with constituents in the district, but I'm not naïve enough to doubt it.
Like his senior advisor says, "He's no moderate." But is he an extremist?




---
Gardeners Tips
by Helen J. Leake



July 17 2014

Bargains to be had at the Garden Centers

The garden centers are marking the price down on some perennials, trees and shrubs, so now is a good time to buy. The plants could be root bound and not look the best, but they just need to get into the ground where the roots can grow and get the plant strong enough for the winter. We will still have some hot and dry weather, so be sure to keep the soil moist.
We tell people to put mulch around your plants to prevent weeds and to keep the soil temperature more even. It also helps hold the moisture. There is also a disadvantage. If you want the plant to reseed and spread, the seeds can not get to the soil to germinate. Some plants you don't want to reseed and spread so leave the mulch up close. If you want the plant to reseed and spread, move the mulch close to the plant back, so the seed can fall onto the soil. Also toward the end of the summer, stop dead heading so the flowers can produce seed for reproduction and also for the birds to have seeds to eat.
Also you might need to collect some of the seed heads and start them in pots, where you can control the necessary factors. Save the seed heads in a cool, dry, dark place for their "rest" period.


---

Get your copy of
Best Look Magazine
today!
Every story has a photo, every photo has a story

McLean County's Sports and Leisure Magazine
Published Feb 15, May 15, Aug 15, Nov 15
July 17 2014
Criminal behavior vs. tax preparation... you decide
A new Capitol Fax/We Ask America poll found Republican Bruce Rauner leading Democratic Gov. Pat Quinn 51-39. That's pretty much the same margin the pollster found for another client a month ago.
The poll of 940 likely voters was taken July 8th and has a margin of error of ±3.2 percent. 30 percent of the calls were made to mobile phones.
Gov. Quinn has repeatedly blasted Rauner for using complicated loopholes to avoid some taxes. I wanted to test the issue.
"Republican Bruce Rauner's tax returns for 2010 and 2011 show that despite making around $55 million, he was not required to pay Social Security or Medicare taxes," respondents were told.
60 percent said that made them less likely to vote for Rauner. 20 percent said it made no difference either way and another 20 percent said it made them more likely to vote for the candidate.
A dangerously high 66 percent of women said the tax issue made them less likely to vote for the candidate, compared to a 49 percent plurality of men. 27 percent of men said the news actually made them more likely to vote for Rauner, compared to 23 percent who said it made no difference.
That's probably because Rauner is doing much better with men than women, despite running a zillion TV ads prominently featuring women. While he leads Quinn 60-33 among men, his female lead is just 3 points, 46-43. Quinn will surely put lots of focus there.
The poll shows Rauner is doing as well in Chicago as Republican US Sen. Mark Kirk did in his 2010 statewide victory, getting 20.5 percent to Kirk's 19.5 percent. Quinn absolutely has to keep Rauner away from that 20 percent number or he's toast. And the best way to do that is through negative TV ads.
The tax issue works very well in the city, with 73 percent saying they'd be less likely to vote for Rauner. However, 27 percent said it either didn't matter (14 percent) or made them more likely to vote for Rauner (13 percent).
The poll also shows Quinn cratering in suburban Cook County, with Rauner leading that traditionally Democratic stronghold 50-41. Quinn won the region by 13 points four years ago, and Republican Mark Kirk lost it by 9 points.
The tax issue made 59 percent of suburban Cook voters less likely to cast a ballot for Rauner.
Gov. Quinn is getting pounded in Downstate, losing the region 64-25, but the tax issue works fairly well against Rauner, with 59 percent of Downstaters saying it made them less likely to vote for the Republican. The issue works less well in the wealthier collar counties, however. Rauner leads Quinn 58-36 in the collars and voters were about evenly split on the tax issue, with 51 percent saying it made them less likely to vote for him, and 49 percent saying it either made no difference (23 percent) or made them more likely to vote for him (29 percent).
Quinn has also demanded that Rauner release his 2013 tax returns, which Rauner has not yet filed. Rauner responded last week by saying he would release the returns in due time and then pivoted to say: "Pat Quinn needs to release all documents and e-mails pertaining to the Neighborhood Recovery Initiative."
As it turns out, the federal investigation into Quinn's now infamous anti-violence program is just as bad for Quinn as Rauner's tax situation is for the challenger.
"It was recently reported that a program implemented by Illinois Gov. Pat Quinn is under federal investigation for misuse of government funds," respondents were told.
60 percent said that made them less likely to vote for Quinn, with 19 percent saying it made no difference and 21 percent saying it made them more likely to vote for him.
Considering Rauner's big lead among men, the impact of the federal probe works "better" with men than women, with 64 percent of men saying it makes them less likely to vote for Quinn versus 57 percent of women.
The attack works best among Downstaters, with a very dangerously high 74 percent saying the investigation makes them less likely to vote for the governor. Any issue polling above 70 percent can be expected to "move" voters on election day.
The revelation worked least well in Chicago, where Quinn's support is strongest. Just 33 percent said it made them less likely to vote for Quinn, while 30 percent said it made no difference and 39 percent said it actually made them more likely to vote for the guy.
So, the two most recent and prominent campaign issues basically cancel each other out, which is good news for Rauner because he's sitting on such a big lead.

Rich Miller also publishes Capitol Fax, a daily political newsletter, and thecapitolfaxblog.com
---
Need artwork for your home or office?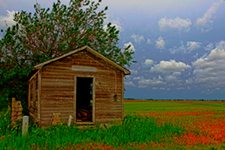 Check out the
Canvas Gallery Wraps offered by Alan Look Photography
!
---
Classic Colcalsure


The Rest is Still Unrwritten


by John Colclasure of Lexington
July 17 2014



Independence Day


Independence Day is a national holiday and most noticeable by fireworks, parades, barbecues, carnivals, fairs, picnic, family reunions and baseball. If you happen to be a history buff, then you will recall that both Thomas Jefferson and John Adams believed the actual date should have been July 2nd as Mr. Jefferson wrote to his beloved wife, Abigail that it would long be a date remembered. Ironically, Jefferson, Adams and James Monroe all died on July 4th thus becoming the third President in a row who died on this memorable day. However, the 30th president of the United States, Calvin Coolidge, was born on July 4, 1872, and is the only President to have been born on Independence Day.
History has long been filled with memories and separated only by those we choose to remember and those we tend to forget. It is in such a light that the smell of Aunt Mary's fried chicken and that year-long anticipation of a Sunday afternoon turning the hand crank atop the ice cream bucket that lingers still. Left to my own feeble attempt to recreate those wonderful bowls full of frozen delights years later paled in comparision to those of yesterday. Somehow, I forgot that salt and more salt was needed to freeze the contents of that metal round cylinder. Those were the good old days. We now enjoy electric and/or a short drive to the Shake Shake.
Independence Day still reminds me of a memorization technique useful for remembering a list of items, particular an ordered list taught to me years ago during a Dale Carnegie training course. Perhaps some of you remember this process of building a memory stack. Simply put, one must visualize the items to be remembered in a gigantic, colorful and sort of "smooshed together" fashion.
Imagine a whole bunch of delicate dinnerware. Shooting up through it you see an immense #2 pencil. Impaled on the pencil is a Jersey Cow. Holding onto the cow for dear life is King George. He has a cut on his forehead, and a band-aid connecting the cut. On the Band-Aid, he has a huge (armful) mass of ice. Sitting on the ice, freezing is Marilyn Monroe. In her lap is the Love Boat, going south. In the pool of the Love Boat is a bunch of hams. The hams, incidentally, are wrapped in sheet music titled "Carry me back to Old Virginia." Shooting up from the hams is the Empire State Building. Balanced atop the Empire State Building is another Love Boat, going North. Grabbing the back rail of the love boat, holding on for dear life, is a Rhode Island Red Hen.
What is this you may ask? Well these are the original 13 colonies that made up the United States, in the order that they signed the Constitution. DE, PA, NJ, GA, CT, MA, MD, SC, NH, VA, NY, NC, RI.
So to all of you who will be celebrating this Independence Day, remember those who have died so that we might enjoy the freedoms that we have, those who raised us up to be kind, considerate and helpful to one another and the most important of all, the one who gave up His own life so that we may live forever with HIM.

Till next time…john