July 24 2014

Our sincerest condolences go out to Bill. His wife, Elizabeth "Betsy" Linneman, passed away on Saturday, July 19.
---

Alan Look Photography - Bloomington - Normal's Best Look in Sports Action Photography
Images from recent games are available for viewing and purchase

---

They Call Me Spence
by Brad Spencer
Award winning journalist

July 24 2014

What does the future hold for our kids?
Parenthood. We're doing more than our parents ever did.
Sure, we have more time. Modern technology has afforded us the luxury of working on the go, and/or from home every once in a while. But do we really want to?
No. Well, except on Fridays—or Monday mornings for that matter. We check email, take a few sips from the coffee mug, stare at the computer monitor... and then call it a day. Ah, we'll check email again throughout the day, maybe take a call or two, but for the most part we're either prepping or recovering from the weekend.
But back to parenthood. We're doing more than our parents ever did.
Apologies to the folks, of course. We don't mean to offend. It's just the way things are now. We're plugged into our children's lives to a point that it's overwhelming, for them and us. We're on the scene at extra-curricular activities, many of us participating whether it be through coaching, supervising, monitoring, advising, or carpooling. We're up to date on this friend and that friend. We're keenly aware of normal and abnormal behaviors and emotions. We're involved, so much so that we worry studies will someday force experts to deem our involvement unhealthy. Which, let's face it, that day will come.
My father is a good man, cares a great deal about his children and his grandchildren. Because he was a traveling salesman during my youth baseball years, he missed the three home runs I hit in one season. I can't recall the details of all three, but I'd like to think they were walk-off dingers of the team hefting the star player up on its shoulders variety—either that or they were of the thanks to timely gusts of wind barely made it over the top of the fence variety. But my point is my father not seeing those homers, or not being able to coach a team because of his time-consuming job, has not had an adverse effect on the adult I became. At least, I don't think it has.
(As much as I'd like to blame my father for thwarting a major league career, it was likely lack of talent and skill that caused that dream to die a quick death.)
I have yet to miss much of my kids' activities. If it was to occur, then I'm sure my wife or a friend would film their moments of glory with a smartphone, a luxury our parents never had—unless they lugged around those bulky VHS Camcorders and endured scrutiny from other parents. And to think now we have the ability to see a video of our children within minutes of it actually happening live no matter where we may be. What a world we live in.
Yes, we're doing more than our parents ever did, but is it too much? Does our constant presence cause over-parenting? Are we too readily available? Are we stifling our child's need for independence?


Brad Spencer can be reached at Brad.E.Spencer@gmail.com
July 24 2014

It's Time to Impeach the President
I HAVE TO ADMIT I was on the fence of this issue (impeaching President Obama) until a July 8 online article by Sarah Palin on Breitbart swung the balance of this contentious issue into high credibility mode, at least for me.
It's time—maybe past time—for Obama's impeachment.
Palin writes, "Enough is enough of the years of abuse from this president. His unsecured border crisis is the last straw that makes the battered wife say, 'no mas.' Without borders there is no nation. Obama knows this."
Palin contends that the current border crisis highlighted by some 40,000 refugee children from Central American nations like Honduras and Guatemala is part of a deliberate and premeditated Obama strategy.
She says, "Opening our borders to a flood of illegal immigrants is deliberate. This is his fundamental transformation of America. It's the only promise he has kept. Discrediting the price paid for America's exceptionalism over our history, he's given false hope and taxpayer's change to millions of foreign nationals who want to sneak into our country illegally.
"Because of Obama's purposeful dereliction of duty an untold number of illegal immigrants will kick off their shoes and come on in, competing against Americans for our jobs and limited public services."
So Obama is deliberately undermining attempts to secure our southern border to facilitate the "browning" of America in order to cost countless real Americans their jobs and provide for their families. Not to mention more votes for the Democrats.
We've heard this kind of talk from any number of conservative media personalities and extremist Republican politicians. At first I was inclined, along with others, to dismiss it as just another conspiracy theory.
But when Sarah Palin, with her superior intellect, broad knowledge of international affairs, and keen political wisdom steps in, it's time to listen.
Besides, conspiracy "theories" may well be true. Where there's smoke there's fire. Most readers will probably remember the smug dismissal of no less a statesman than Michelle Bachmann, who revealed that Obama is really a Muslim in the process of infiltrating his administration with members of the Muslim Brotherhood.

SEVERAL REPORTS (most of them, of course, from the liberal media establishment) make the claim that on Obama's watch, border security measures have escalated, including the hiring of hundreds of new border agents, building additional fencing, and even upgrading the border patrol's access to increased electronic surveillance technology.
I'm embarrassed to admit I bought into some of these claims prior to reading Palin's article. In her piece, she stresses the president's lawlessness, saying, "President Obama's rewarding of lawlessness, including his own, is the foundational problem here. It's not going to get better, and in fact irreparable harm can be done in this lame-duck term as he continues to make up his laws as he goes along.
"It's time to impeach; and on behalf of American workers and legal immigrants of all backgrounds, we should vehemently oppose any politician on the left or the right who would hesitate in voting for articles of impeachment."
It was unfortunate (and I might add disloyal) for Sarah that John Boehner, Republican Speaker of the House, immediately rejected her call. But we all know how easily he can be manipulated and finessed by the liberal/progressive establishment.
The lawlessness Palin speaks of is evidenced by the president's use of executive order privilege to enact public policy by circumventing Congress. Barack Obama has employed the executive order at an annual rate of 34 times.
Palin has to swim upstream at times to try and neutralize what she aptly calls the "lamestream" media, dominated by liberal/progressive bias. For example, a recent study indicates that Obama's use of the executive order marks the lowest annual rate among presidents dating clear back to President Kennedy, who used it 75 times a year!
This "study," if we may call it such, was conducted by an outfit called The American Presidency Project, no doubt a liberal think tank on the Far Left. According to its findings, Lyndon Johnson used executive orders 63 times annually, Richard Nixon 62, Gerald Ford 69, Jimmy Carter 80, Ronald Reagan 48, George H. W. Bush 42, Bill Clinton 46, and George W. Bush, 36.
But who are you going to believe? A pointy-head Leftist think tank, or a statesman like Palin?

THERE ARE EVEN reports (and this takes us back to the original Palin claim about illegal immigration) that under President Obama, the United States has deported upwards of 2 million illegals, far more than any other president before him.
But we know this can't be so. Such reports no doubt consist of a series of tortured numbers skewed shamelessly by Far Left would-be apologists. We know that Obama is the worst U.S. President since World War II; a recent Quinnipiac poll proved it.
Like I said, before reading Palin's article I was ambivalent about impeaching the president; it seems like such drastic action. But it's tough to ignore the need for that action when someone of Palin's acumen and gravitas says the time has come.




---
Gardeners Tips
by Helen J. Leake



July 24 2014

Don't let your weeds go to seed

It is time to harvest the onions and garlic when 95% of the tops have bent over. Spread them out on a screen or open place, so they can dry. Drying can take 2 to 4 weeks. Then you can cut the top off about an inch above the bulb, place them in a well ventilated container and store them in a cool, dry place.
By this time, the weeds in the garden seem to be growing faster and we have a hard time controlling them. Do not use chemicals to remove the weeds. The drift of the chemicals could reach over to the foods we eat and make us sick. If you do not have time to remove the weeds, just be sure you cut off the seed heads. The more seed heads you remove, the fewer weeds for next year. A year of weeds equals seven years of weeding.
Now is the time to plant brussels sprouts. They are more flavorful when picked after a light frost. In August you can start your fall garden of lettuce, spinach, beans, turnips and radishes.
You might need to renew your organic mulch. As the organic mulch breaks down, it is putting nutrition into the soil. If you add fresh mulch now it will help more to control weeds and moisture. It will also freshen up the looks of the old mulch, If you want the plant to reseed don't add more mulch.



---

Get your copy of
Best Look Magazine
today!
Every story has a photo, every photo has a story

McLean County's Sports and Leisure Magazine
Published Feb 15, May 15, Aug 15, Nov 15
July 24 2014
Can the State afford Rauner's Tax Cut Plan?
"This morning," 1,063 respondents were told the evening of July 17th during a Capitol Fax/We Ask America poll, "Republican candidate for governor Bruce Rauner released an economic plan for Illinois.
"That plan calls for a freeze on property taxes and rolling back the 2010 tax increase. It also implements a new tax on services, such as advertising, legal services, and mini-storage centers. We'd like to know whether this type of plan would make you more likely, or less likely to vote for him."
Rauner had most certainly tested his service tax proposal backwards and forwards before presenting it to the public last week, so I figured it had to poll fairly well. It did.
The poll found that 53 percent said they'd be more likely to vote for Rauner, while just 32 percent said they'd be less likely to vote for him and 15 percent said it made no difference.
As we've discussed before, Rauner has struggled a bit with women, but they actually liked the idea more than men. 56 percent said the idea made them more likely to vote for Rauner, while just 28 percent said they were less likely. The male split was 47 percent more, 39 percent less.
The highest regional support for the plan came from the suburban collar counties, where Rauner did the best in the primary. 66 percent of collar county voters said the proposal made them more likely to vote for Rauner, while 25 percent said less. The split among Downstaters was 53-27, it was 49-38 among suburban Cook County voters and he was upside down in Chicago, where he always polls poorly, 32-50.
Just 17 percent of Republicans said they'd be less likely to vote for Rauner while 66 percent said they'd be more likely. Among independents, 56 percent were more likely and 29 percent were less likely to vote for him. And among Democrats, 33 percent were more likely while 53 percent less likely.
Why does this look so popular? Well, people hate that income tax hike and they hate their property taxes. On its face, this could look like a "magic bullet" to folks.
There are no magic bullets, of course. If there were, they would've already been used.
Rauner specified a mere $577 million in new annual revenues via his service tax, which is nowhere near the $8 billion he wants to give up from the income tax hike.
Rauner says he'd phase out that tax hike over four years, and he's said he could accomplish this with economic growth. According to the state's Commission on Government Forecasting and Accountability, income tax revenue growth averaged just 6.8 percent between Fiscal Year 1998 and Fiscal Year 2013. Rauner wants to grow those revenues by almost 67 percent over just four years.
"Rauner's plan would add more than a half-billion dollars to state coffers, but wouldn't come close to replacing the $8 billion from the taxes he would roll back," polling respondents were told. "Do you think the state can afford the Rauner plan?"
Illinoisans were split, with 41 percent of the respondents saying the state can afford it and 43 percent saying it can't.
"They want the benefits of overall lower taxes, but doubt the viability," said pollster Gregg Durham. The poll had a margin of error of +/-3 percent. 28 percent were mobile phone users.
And that second set of numbers might've been far worse had more specifics been used.
"Too bad [Rauner's plan] is entirely phony and false and paid for by massive cuts to education," texted Gov. Pat Quinn's campaign spokesperson Brooke Anderson last week. "Wonder how that polls."
Anderson rightly pointed out that the state budget includes around $16 billion in "non-mandated" expenditures – the rest is pretty much required and/or locked-in spending.
Without massive, unprecedented growth, Rauner would have to cut that $16 billion in spending roughly in half - and education also makes up half of that $16 billion. "Talk about decimating public education - you're pretty much eliminating it," Anderson said, giving us a likely preview of the upcoming TV attack ads.
Not to mention the massive fiscal cliff created by this year's state budget, which adds billions in deferred costs to next year's budget. The only way to avoid that is to raise the rate back up to 5 percent after January 1st, when it's scheduled to go down to 3.75 percent.
Rauner's campaign refused to talk about specific phase-out percentages and timelines last week. But the cold hard reality is, that tax hike isn't going away very soon, no matter what he says.


Rich Miller also publishes Capitol Fax, a daily political newsletter, and thecapitolfaxblog.com
---
Need artwork for your home or office?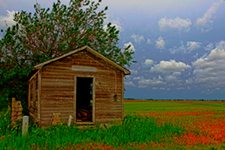 Check out the
Canvas Gallery Wraps offered by Alan Look Photography
!
---
Classic Colcalsure


The Rest is Still Unrwritten


by John Colclasure of Lexington
July 24 2014



Christmas in July?


Well, it has finally happened! Christmas in July. How many years has it been that we all were irritated that Christmas displays, advertising and midnight specials began before Thanksgiving? Well in case you have not noticed we now have Christmas in July. The Hallmark TV channels began a week's worth of holiday programming on the 4th of July featuring those popular Christmas shows like "Let it Snow; "Angels Sing"; Mrs. Miracle; Fir Crazy; Silver Bells and many others.
Despite the fact that we are in the middle of summer with all of the mosquitoes, flies, wood ticks and so many weeds in the garden that one cannot see any tomatoes, we are being reminded to think not of fireworks and hot dogs, but rather to focus our attention on ornaments and egg nog!
The Hallmark and Hallmark movie channels are doing their best to provide their audience with a "little bit of escapism" in the words of Bill Abbott, president and CEO of the Crown Family Networks, "and that's what television is for." Maybe he is right on with those words of wisdom.
This little bit of escapism actually began two years ago as a single weekend intended to draw attention to the annual debut of new holiday ornaments by Hallmark Cards. In succeeding years, the audience has continued to grow as we all gravitated to those favorite movies and enjoyed by "families" rather than simply serving as a backdrop to all the hustle and bustle of the Christmas Holidays.
But, somehow one has to wonder how this will all end. Could it be that each household will have to move all of their shopping days forward to let's say, before July 4th. Sure, why not? As soon as the after-Christmas sales begin, we could begin as well. Ornaments twinkle lights, garland, and tinsel. Why we could even leave the tree up and the outdoor lights and displays. Yep, put-em up in nice weather, test the lighting and never ever take them down again. Sounds like a plan to me.
But oh wait! What about the risk, though. Economically speaking, November and December are big business months aren't they? Certainly Sears, JC Penny's, Walmart, and those other big box stores would not want to cut into their fourth quarter sales, or would they? Who knows?
Anyways, I think I will go up to the bank and get $340.00 in new, crisp twenty dollar bills and those funny little envelopes for gift giving and my Christmas shopping will be done and truly I will have "Christmas in July." In case you are counting, there are exactly 156 days, 13 hours and 15 minutes (as of this writing) until Christmas.


Till next time…john