April 17 2014


Pictures On The Wall
With Betsy currently in the nursing home, I moved into her airy bedroom. As I lie in bed facing the north wall, two large prints appear, each displaying a girl. One is looking toward the left, and the other is returning the gaze to the right.
They hold umbrellas and are clad in the long gowns that a Nineteenth Century woman would wear to protect her skin. There seems plenty of sunlight although the sky has cumulus clouds. The air is breezy, judging from the girls' billowing scarves.
There are differences in the pictures. One girl wears a hat, the other a bonnet. But they might be the same girl in different poses. I studied their faces up close but the facial features dissolved into dabs and blots of color, the style of French Impressionism.
As a youngster I had trouble drawing. Other kids could draw details like leaves on a tree, but I couldn't. Then our fifth grade teacher told us about Impressionism. How Claude Monet would color a smear of green and let eyes of the viewer imagine a tree. Distance can cover a multitude of details. From then on, Monet became my favorite artist.
Back to the paintings. I didn't think they had been done by Monet because he seldom drew humans. Except as something incidental in the distance. I speculated the girls might have been drawn by Renoir except the girls are slender and he drew large women. "Renoir liked fat women," my Humanities professor would drool. "Lots of pink, rosy flesh."
Edgar Degas drew plenty of slender girls which were scarcely clad ballerinas. He could have taken one for a country outing. I asked Betsy but she assured me the artist was Monet.
Above my bed is a large Gaugin displaying black-haired brown-skinned women in colorful clothes. This is not impressionistic but realistic with firm lines. Each color stays within its borders. Because it's positioned behind me, I seldom see it. It would go well on the empty space of the east wall.
But I have no affinity for artists who desert their families and run off to Tahiti. So the east wall is presently the residence for Van Gogh's "Harvest Time" which is too small for the space. I wish I had a larger print because this is a busy picture with lots of detail.
There's a brown haystack with a man on ladder topping it off. This is balanced on the other side by a man unloading fodder into a tall white barn. In the distance are other white barns with rusty colored roofs. Up front is a field of dark green cactus-like plants enclosed by brown and white palings. There's a border of yellow and white flowers.
The middle of the picture has light green and yellowish fields stretching toward the horizon of dark blue hills and light blue sky. There's a blue wagon and a bright red one. There's a glimpse of a small village with its campanile.
The painting is realistic. You can sense the distance as your gaze shifts from near to far. The painting's colors cover the spectrum. I like it much.




---

Alan Look Photography - Bloomington - Normal's Best Look in Sports Action Photography
Images from recent games are available for viewing and purchase

---

They Call Me Spence
by Brad Spencer
Award winning journalist

April 17 2014

The ultimate memorial
Only a place like Central Illinois could initiate a heartwarming, inspirational and infectious phenomena like the one in honor of Michael Collins, a 22-year-old senior at Illinois State University who died on April 2 from injuries sustained when the car he was riding in was hit by an alleged drunk driver.
The #MCstrong pay it forward tribute where people far and wide are doing random good deeds for strangers was inspired by the fact that Collins, by all accounts an unselfish individual in life, was also an unselfish individual in death. He was an organ donor, and it's been reported that he helped save or improve the lives of over 200 people because of it.
And so the good deeds began, and then multiplied feverishly, and the news went national. Simple random acts of kindness are still spreading beyond Bloomington-Normal, drifting through the ether to distant cities, states, and countries such as Chicago, Arizona, Australia, only to name a few. It's an outpouring overwhelming in every regard. Strangers buying lunches for strangers. Youth baseball equipment being purchased randomly for youth programs. Gift cards ending up anonymously on car window shields with a note attached: "#MCstrong pay it forward." A free tank of gas and on and on … all in honor of Michael Collins.
I've never been a big fan of Facebook or Twitter, always held to the notion that real friends are those that you physically spend time with on a regular basis or verbally communicate with on a regular basis—call me old fashioned in that regard. But this vast expression of gratitude for an individual and his character could not have been done without these social media platforms. And posting your good deed or the good deed of others in his memory isn't tacky or arrogant. It helps inspire others to go out and do something not just nice for someone, but to do something incredibly nice for someone they don't know. You're helping others, but more importantly you're helping yourself heal from the pain of someone's life being senselessly cut short.
If you ask me, such an act of honoring those we lose in death trumps that of prayers or flowers. This is the ultimate gift. It shows we care about humanity.
So often we can get caught up in the rat race, lose perspective, and many times we're pulled down by the undertow of cynicism. Distrust is a contagious virus, more like a plague at this point. It's refreshing to know that in the Midwest, in central Illinois, in a city nestled between corn and bean fields, there's a sense of hope that nothing—not the untimely death of a selfless young man—will bring a community to its knees. It will only make it rise up and be strong.
Only in a place like Central Illinois.


Brad Spencer can be reached at Brad.E.Spencer@gmail.com
April 17 2014

Are You a Baseball Old Timer?
A FRIEND and I, with nothing better to do, sat in a restaurant last week and began playing a game of "old timer." The idea was to identify particulars in the world of baseball that would qualify a fan as a bona fide old timer. It was a fun game so I decided playing with it in this space might be fun for readers who follow baseball.
I won't use the friend's name because he's a man known to many in our community and I want to protect him from ribbing, even if good natured.
It's not surprising that many of the people and places we identified involved the Cubs and Cardinals.
So here we go: You're probably a redneck if—oops—baseball old timer if you remember the last time the Cubs played in the World Series. It happened in 1945, the same year we dropped atomic bombs on Japan.
The Cubs lost the series to Detroit, four games to three, losing three of four in Wrigley Field. Hank Greenberg, who had been released from military duty earlier than other big leaguers, was the hitting star for the Tigers. The infamous Curse of the Billy Goat originated in this Series before the start of game four.
Most people know the Cubs haven't won a Fall Classic since 1908; the fact they haven't even played in one since the tail end of World War II seems (to me at least) to be just as improbable.
You can qualify as an old timer if you remember when Phil Cavarretta played for the Cubs. In 1945, by the way, he led the National League in batting (.355) and in on-base-percentage (.449).

CAN YOU remember Bobby Thompson's "shot heard 'round the world?" It was his walk-off homer in the 1951 National League playoff that claimed the National League pennant for the Giants over the Dodgers. Unfortunately, the Giants lost the World Series in six games. There were significant milestones in that Series: Yankee slugger Joe Dimaggio retired after game six, while rookies Willie Mays and Mickey Mantle played in their first fall classic.
Thompson's celebrated home run and its lingering legacy stands as important baseball history, but also testifies to the power of the New York media. At least two other postseason walk-off homers were more crucial; they won not a pennant but a World Series.
In the 1960 World Series, Pittsburgh's Bill Mazeroski homered in the ninth inning of game seven to lead the Pirates past the Yankees. It was a game, incidentally, when not a single player struck out.
The 1993 World Series saw Toronto's Joe Carter hit a walk-off homer in game six to win the Series over the Philadelphia Phillies. Carter himself still brings painful memories to Cubs fans. He broke in with the Chicago team in 1983, but was traded to Toronto the following year, where he blossomed into a superstar.

IF YOU can remember the Boston Braves, you're probably a baseball old timer. If you can remember their 1948 National League pennant run and some of their players your credentials are even more authentic.
The strength of the Braves started with all-star pitchers Warren Spahn and Johnny Sain. But Cleveland, who won the Series four games to two, countered with Bob Feller. Games four and five, in Cleveland's vast Memorial Stadium, drew record-breaking crowds of nearly 85,000.
Satchel Paige took the mound in a few relief roles for the Indians. It was the first time in baseball history a black man pitched in a World Series.
If you remember games played in Philadelphia's Shibe Park, Cincinnati's Crosley Field, or Wrigley Field (the California version) your credentials are in order.
Cardinals fans who remember all-star shortstop Marty Marion have membership in the old timers association, as do those who remember center fielder Terry Moore. Marion played his final games for the Redbirds in 1950, Moore in 1948.
Those who remember crafty pitcher Howard Pollet? Welcome to the distinguished club. He pitched for the Cardinals from 1941 until 1951. Remember his mound partner, Harry (the cat) Brecheen? Another crafty southpaw who pitched in St. Louis from 1940 through 1951. Brecheen took the mound for the Browns in 1952, his final big league season.
But if you remember watching (or listening on the radio to) St. Louis fireballer Dizzy Dean or the Cubs' slugging Hack Wilson, you're probably an old, OLD timer. Or a liar.
Our list could be much, much longer of course, and if you're a baseball fan of advanced age, you might be able to make one just as good, if not better.
I'm open to suggestions



---
Gardeners Tips
by Helen J. Leake
McLean Co. Master Gardener


April 17 2014

Deadheading, pruning, cutting back and rejuvenating

We hear people talking about deadheading, pruning, cutting back and rejuvenating, what is the difference? They all improve the looks of the plant.
Deadheading is when we remove the flower that is no longer attractive. A seed is supposed to produce a plant, then a flower. The flower will turn into a seed and then the plant is finished growing. If you keep removing the old flowers, the plant will continue producing more flowers.
When we prune or cut back a plant or shrub, we are removing the tired foliage and restoring the youth look of the plant. It will also help improve the beauty of the garden. It will also help control the size of the plant. If you remove 1/3 of the oldest canes in a shrub, it will send up new branches.
If you cut back or prune mums, asters or sedums before July 4, you can have a more attractive shaped plant. A nip and tuck in mid summer helps to keep balloon flower, salvias and Joe-Pye weed more under control.
Last, but not least, is rejuvenate. As our shrubs get taller, sometimes they lose some of their beauty. A deciduous hedge, for example, loses its leaves in the winter. As it gets taller and is trimmed, the top is wider and the sun can not reach the bottom, so the lower branches die. If the hedge is trimmed to an A shape, wider at the bottom than the top, it can be more attractive. The first year, cut out the dead or crossing branches. Then the second year, make the top more narrow, so the lower branches can grow outward. Just a snip off the tips will start making the base wider. It could take 3-4 years to get the hedge to be completely covered with leaves.



---

Get your copy of
Best Look Magazine
today!
Every story has a photo, every photo has a story

McLean County's Sports and Leisure Magazine
Published Feb 15, May 15, Aug 15, Nov 15
April 17 2014
Madigan up to more tricks on taxpayers
A long time ago I asked Illinois House Speaker Michael Madigan why he never golfed at his golf outing fundraisers.
Madigan explained that he was a terrible golfer (he's since improved, I'm told) If people saw him embarrassing himself badly on the golf course, they might take a dimmer view of him as a leader.
He has applied this lesson to just about everything he does. He examines every angle before he acts. He hates mistakes and almost never acts precipitously or impetuously.
For example, Madigan and his staff gather a few times a week to read through every bill and every amendment to those bills to look for flaws, hidden agendas or to discuss strategies. He always wants to be as prepared as possible.
As a result, he rarely fails.
But something else has been happening over the past year or so.
Madigan has become a media hound.
The Speaker has never really sought media attention. He does what he does, and then he goes home, or, more likely, back to his office. A Republican friend of mine calls him "James Bond."
But after getting royally hammered by the Chicago media over how he asked Metra to give one of his loyal patronage workers a raise, he's seemed to change. Nowadays, he seeks publicity, and credit.
It started after the House passed the gay marriage bill. It wasn't an easy task by any means and Madigan publicly took the credit for its passage. A few months later, he took the lion's share of the credit for passing the long-sought pension reform bill.
Then, earlier this year, out of the blue, he proposed a 50 percent cut in the corporate income tax rate. He got a ton of media coverage, but he hasn't yet followed up on it. It looked like a "press release bill." Legislation unveiled merely to generate media interest. It might yet resurface, but as of now it has been disappeared into the ether.
Madigan was also working behind the scenes this spring with the Senate Democrats on a constitutional amendment to impose a three percent surcharge on income over a million dollars. But then Madigan went ahead with his own announcement of the proposal. It was referred to in pretty much all media reports as "Madigan's millionaire tax."
At the time of the unveiling, Madigan said he'd done his homework and had talked to his members before announcing his proposal. The constitutional amendment required a three-fifths super majority, so Madigan would need every single one of his Democrats if he couldn't lock down any House Republican votes.
Rep. Jack Franks, a Democrat who prides himself on never voting for tax hikes, offered tentative early support, but his support was tied to allowing the 2011 income tax hike to expire. Just days later, Madigan publicly supported keeping the tax hike permanent.
Rep. Franks says he told the Speaker that he couldn't back the proposed constitutional amendment a couple weeks ago. Madigan asked for time to try and find GOP votes. In the meantime other Democrats went off the reservation, including Rep. Scott Drury, who issued a press release last week announcing his opposition. The momentum was going too fast the other way, so the plug was pulled.
Madigan, through a spokesman, blamed the Republicans for the proposal's defeat. But Madigan had surprised the Republicans with his plan's unveiling, instead of finding some GOP support in advance.
As it turns out, Madigan simply bit off more than he could chew. His proposal failed, but he sure got a lot of publicity about it, much of it favorable.
And, hey, lemons into lemonade. Pro-business groups like Americans for Prosperity Illinois offered up praise for Rep. Drury, who faces a Republican opponent in November. Drury and Franks, "should be commended for siding with taxpayers and small businesses by taking a courageous stand against this proposal," said AFP Illinois State Director David From via press release. That'll surely make Drury more palatable to tax sensitive business owners in his district.
And the proposal put Republican gubernatorial candidate Bruce Rauner in a difficult spot. Rauner flatly opposed the tax, while leaving open the possibility that he could favor taxing retirement income and services. It didn't make him look good.
Maybe this is all part of some grand scheme. But right now it sure looks like James Bond has gone tabloid.


Rich Miller also publishes Capitol Fax, a daily political newsletter, and thecapitolfaxblog.com
---
Need artwork for your home or office?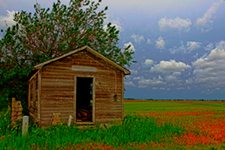 Check out the
Canvas Gallery Wraps offered by Alan Look Photography
!
---
Classic Colcalsure


The Rest is Still Unrwritten


by John Colclasure

April 17 2014



Kerplunk


One day Chicken Little was walking in the woods when—KERPLUNK—an acorn fell on her head. "OH my goodness!" said Chicken Little. "The sky is falling and I must go and tell the king." Perhaps all Chicken Little needed was an umbrella! Anyways this folk tale dates as far back as 1895 and is also referenced as being the "Henny Penny Story." The moral of the story is either a happy one or an unhappy one depending if you are a fox or one of the birds. Either way we learn not to believe everything that we hear.
Thus, it should come as no surprise that I had a hard time believing that Easter Eggs were falling out of the clear blue sky. Not once, not twice, not thrice, but four times. I thought I was about to cross over into the Sci-Fi world of flying saucers, or Big-foot or maybe a sighting of the Loch Ness Monster. But there it was in bold headlines, "Easter Eggs fall from the sky at ONEeighty Church." And you all know what they say, if you repeat a story long enough, sooner or later everyone will believe it. Again there it was with 2000 eye witnesses and 23,000 plastic eggs dropping from the sky, and in pictures and you know pictures don't lie! Or do they? I wondered.
Searching the internet, I found similar stories. 50,000 eggs dropped onto a football field; 30,000 eggs dropped onto Cedarock Park; 40,000 eggs dropped in Oklahoma and the list went on and on. By now I was becoming convinced that all across our nation, we were being bombarded with plastic missiles filled with candy. My oh my! What was the world coming to?
Seriously, what a spectacular way to host an Easter Egg Hunt with thousands of plastic eggs dropping from the sky. Such an event was organized this past weekend by Vale Church of Bloomington and held at the Sale Barn on South Main Street in Bloomington. Thousands of eggs were dropped from a helicopter onto the soccer fields with 3000 children dashing about (once the horn sounded) in search of those candy-filled eggs. This free event was witnessed by a crowd of more than 3400 people. Well, you folks at Vale church have made a believer out of me. Easter Eggs can and do fall out of the sky, no thanks to Henny Penny, Chicken Little, Foxy Loxy, Cocky Locky or even Turkey Lurkey.
As for me and Mrs. C, I think we will go up to the kitchen and boil a couple dozen eggs and once they are cooled, get out my up-to-date Dudley's re-usable coloring cups, coloring tablets, vinegar, egg dipper and crayons and make our own. Oh yes, please use caution as "Children must be supervised since this is a lye process and colors may stain some fabrics." And oh by the way, don't forget your umbrella as it almost always rains on Easter Sunday and then seven more Sundays after that

Till next time…john